About middle class theory: history and modern times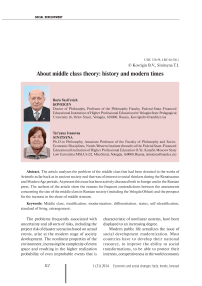 The article analyses the problem of the middle class that had been denoted in the works of Aristotle as far back as in ancient society and that was of interest to social thinkers during the Renaissance and Modern Age periods. At present this issue has been actively discussed both in foreign and in the Russian press. The authors of the article show the reasons for frequent contradictions between the assessments concerning the size of the middle class in Russian society (including the Vologda Oblast) and the prospect for the increase in the share of middle stratum.
Middle class, stratification, modernization, differentiation, status, self-identification, standard of living, estrangement
Короткий адрес: https://sciup.org/147223548
IDR: 147223548   |   DOI: 10.15838/esc/2014.1.31.13
Список литературы
About middle class theory: history and modern times
Aristotle. Politika: soch.: v 4-kh t. . Moscow, 1983.
Belyaeva L.A. Sotsiokul'turnye aspekty modernizatsii regionov . Filosofskie naukii , 2012, no.7.
Weber M. Osnovnye ponyatiya stratifikatsii . Sotsiologicheskie issledovaniya , 1994, no.5.
Vil'khovchenko E.D. "Lyudi znaniya" -novaya rabochaya sila pozdnekapitalisticheskikh obshchestv i ee mesto v tsivilizatsionnykh protsessakh . Moscow: IMEMO RAN, 2010.
Zaslavskaya T.I., Yadov V.A. Sotsial'nye transformatsii v Rossii . Sotsiologicheskiy zhurnal , 2008, no.4.
Zdravomyslov A.G. Sredniy klass . Novaya filosofskaya entsiklopediya . Moscow, 2000.
Avraamova E.M. et al. Srednie klassy v Rossii: ekonomicheskie i sotsial'nye strategii . Ed. by T. Maleeva; Carnegie Moscow Centre. Moscow: Gondal'f, 2003.
Tikhonova N.E., Mareeva S.E. Sredniy klass: teoriya i real'nost' . Moscow: Al'fa, 2009.
Shabunova A.A., Lastochkina M.A. Cherez krizis k modernizatsii . Filosofskie nauki , 2012, no.7.