Анализ концепций региональной конкурентоспособности на примере провинции Дананг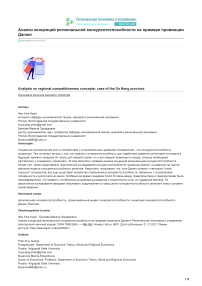 Социально-экономический рост в соответствии с установленными целевыми показателями - это конкурентоспособность провинции. Тем не менее, вопрос о том, как укрепить конкурентоспособность для содействия развитию устойчивой экономики в будущем, является загадкой не только для каждой страны, но и для каждой провинции и города, которые необходимо рассмотреть и определить приоритеты. В этой связи был проведен анализ концепций региональной конкурентоспособности. Кроме того, также представлено практическое исследование конкурентоспособности провинции Дананг, основанное на оценке рейтинга индекса конкурентоспособности регионов. Результаты показывают, что, хотя Дананг отнесен к категории "очень хороших" конкурентов, все еще существует множество ограничений в конкурентоспособности, связанных с показателями прозрачности и доступностью земли. Особенно во время пандемии Covid-19 связь между правительством и предприятиями была несвоевременной, что привело к ослаблению динамизма руководства и ограничению услуг по поддержке бизнеса. По результатам исследования авторами обоснованы предложения по повышению конкурентоспособности региона в новых условиях хозяйствования.
Еще
Региональная конкурентоспособность, провинциальный индекс конкурентоспособности, концепция конкурентоспособности, Дананг, Вьетнам.
Короткий адрес: https://sciup.org/143177385
IDR: 143177385
Список литературы
Анализ концепций региональной конкурентоспособности на примере провинции Дананг
LC – AV Group. Индекс конкурентоспособности регионов России 2020. Москва: LC-AV group. 2021. 49 c. URL: http://lc-av.ru/wp-content/uploads/2020/05/AV-RCI-2020-alfa-200219.pdf.
Aiginger, K., Vogel, J. Competitiveness: from a misleading concept to a strategy supporting beyond GDP goals // Competitiveness Review. — 2015. — vol25(5). — p. 497–523.
Bautista R.S. Cities and enterprises, competitiveness and growth: Philippine cities competitiveness ranking project 2009. Makati City, Philippines: Asian Institute of Management. 2010.
Bristow, G. Everyone's a 'winner': Problematising the discourse of regional competitiveness // Journal of Economic Geography. — 2005. — vol5(3). -p. 285-304. DOI https://doi.org/10.1093/jeg/lbh063
Bristow, G. Critical reflections on regional competitiveness: Theory, policy, practice. New York, NY: Routledge. 2010.
Camagni, R. On the concept of territorial competitiveness: Sound or misleading? // Urban Studies. — 2002. — vol. 39(13). — p. 2395- 2411. DOI: https://doi.org/10.1080/0042098022000027022
Da Nang statistics office. Da Nang Statistical Yearbook 2020. Da Nang statistics publishing: Da Nang, 2021, 632p.
Hämäläinen, T.J. National Competitiveness and Economic Growth: The Changing Determinants of Economic Performance in the World Economy. — Edward Elgar Publishing, No. 2210. 2003
Huggins, R., Izushi, H., Thompson, P. Regional Competitiveness: Theories and Methodologies for Empirical Analysis // Journal of CENTRUM Cathedra: The Business and Economics Research Journal. -2013. -vol. 6(2). -p. 155-172.
Kadosca, G., Francsovics, A. Macro and Micro Economic Factors of Small Enterprise competitiveness // Acta Polytechnica Hungarica. -2011. -vol. 8(1). -p 23-40.
Komite Pemantauan Pelaksanaan Otonomi Daerah. Ranking of investment climate for 33 Indonesian provinces in 2008. -Jakarta, Indonesia: Komite Pemantauan Pelaksanaan Otonomi Daerah. 2008. Retrieved from http://www.kppod.org/datapdf/laporan/rating33prov2008.pdf.
Krugman, P.R. Competitiveness: A Dangerous Obsession // Foreign Affairs. -1994. -vol. 73(2). -p. 28-44. DOI: https://doi.org/10.2307/20045917
Mahmud, W., Ahmed, S., Mahajan, S. Economic Reforms, Growth, and Governance: The Political Economy Aspects of Bangladesh's Development Surprise. World Bank, Working Paper No. 22, 2008. http://siteresources.worldbank.org/EXTPREMNET/Resources/489960-1338997241035/Growth_Commission_Working_Paper_22_Economic_Reforms_Growth_Governance_Political_Economy_Aspects_Bangladesh_Development_Surprise.pdf.
Malesky, E. J. Provincial Governance and Foreign Direct Investment in Vietnam. Saigon Economic Times, Knowledge Publishing House. 2007
Martin, R., Kitson, M., Tyler P (Eds.). Regional Competitiveness (1st ed.). Routledge. 2006, 176p. https://doi.org/10.4324/9780203607046.
Porter, M. E. The competitive advantage of nations. — New York: Free Press. 1990.
Porter, M. E. Building the microeconomic foundations of prosperity: Findings from the Business Competitiveness Index. In Global competitiveness report 2002-2003. Oxford, UK: Oxford University Press, New York. 2003a, 28p (pp 23-45).
Porter, M. E. The Economic Performance of Regions // Regional Studies. 2003b. Vol. 37(6&7). Pp. 549–678.
Porter, M. E. The Determinants of National Competitiveness. Working Paper 18249, National Bureau Of Economic Research. 2010.
Reiljan, J., Hinrikus, M., Ivanov, A. Key Issues in Defining and Analyzing The Competitiveness of A Country, Working Paper Nol, Tartu University Press. 2000, 59p.
Scott B.R., Lodge G.C. US competitiveness in the World Economy. Harvard Business School Press, Boston. 1985.
Sadki, T., Nmili, M., Jalal, C. Regional competitiveness: A critical theoretical review and managerial and politicam implications // Revue Alternatives Manageriables et Economiques. -2020. -vol 2(4). -p 194-216.
Sieradzka, K., Luft, R. Theoretical aspects of enterprise competitiveness // Central Eiropean Review of Economics and Finance. -2015. -vol. 10(4). -p 133-141.
Stankiewicz, M. J. The competitiveness of businesses, Building competitiveness companies in the conditions of globalization, Home Organizer, Torun. 2005
VCCI and USAID — Vietnam Provincial Competitiveness Index 2010 — 2020. – Hanoi. URL: https://pcivietnam.vn/ (accessed 09.08.2021)
Vo T. Danang–The Key Driver and Powerhouse of the Central and Central Highland. GAIN report number: VM5085. USDA. 2016.
Еще