Analysis of approaches to the classification of tourism destinations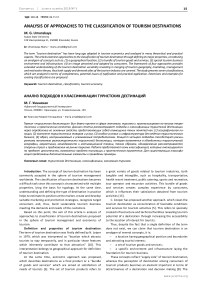 The term "tourism destination" has been long ago adopted in tourism economics and analyzed in many theoretical and practical aspects. The article examines approaches to the classification of tourism destination through defining its major properties, constituting an amalgam of concepts such as: (1) a geographical location, (2) a bundle of tourism goods and services, (3) special tourism business environment and infrastructure, (4) an image perceived and adopted by consumers. The framework of four approaches provides extended understanding of the tourism destination versatility revealing in merging of tourism geography, marketing, management and motivation theory, thus both supply and demand sides of the tourism industry are covered. The study presents seven classifications, which are analyzed in terms of completeness, potential issues of typification and practical application. Extensions and examples for existing classifications are proposed.
Еще
Tourism destination, classification, tourism economy
Короткий адрес: https://sciup.org/14110482
IDR: 14110482
Список литературы
Analysis of approaches to the classification of tourism destinations
Bieger T. Destinations Management. Munich: Oldenburg Verlag, 2012. P. 327.
Buhalis D. Marketing the competitive destination of the future//Tourism Management. 2000. Vol. 21. Pp. 97-116
Candela G., Figini P. Tourism economics: a discipline of economics//Almatourism: Journal of Tourism, Culture and Territorial Development. 2009. Pp. 8-19.
Chen C.F., Tsai, D.G. How destination image and evaluative factors affect behavioral intentions//Tourism Management. 2007. Vol. 28, No. 4, Pp. 1115-1122.
Cooper C., Fletcher J., Gilbert D., Shepherd R., Wanhill S. Tourism: Principles and Practices. Harlow: Prentice Hall, 2005.
Echtner C.M., Ritchie J.R.B. The meaning and measurement of destination image//Journal of Travel Studies. 1991. Vol. 2. Pp. 2-12.
Holloway C.J., Humphreys C. The Business of Tourism. London: Pearson, 2016. P. 803.
Kim K., Hallab Z., Kim J.N., The moderating effect of travel experience in a destination on the relationship between the destination image and the intention to revisit//Journal of Hospitality Marketing & Management. 2012. Vol. 21, No. 5, Pp. 486-505.
Kotler P., Bowen J.T., Makens J. Marketing for Hospitality and Tourism. London: Person, 2014.
Leiper N. The framework of tourism: towards a definition of tourism, tourist, and the tourist Industry//Annals of Tourism Research. 1979. Vol. 6. No. 4. Pp. 390-407.
Leksakundilok A. Community Participation in Ecotourism Development in Thailand: author's abstract, doctor of philosophy (science). Sydney, 2004.
Lebedev A.I., Khamadeeva Z.A., Matveeva L.D., et al. The prospects of innovative and nanotechnologies application in the industry of tourism and hospitality of Bashkortostan//International Journal of Advanced Biotechnology and Research. 2017. Vol. 8. No. 4. Pp. 1075-1085.
Lebedev A.I., Usmanov I.Yu., Matveeva L.D., et al. Experience of landscape and historical complexes allocation in historical settlements//Ponte. 2017. Vol. 73. No. 12/Si. Pp. 159-168.
Morozov M.A., Voit M.N. Theoretic and economic aspects of tourist destination concept//Vestnik Rossiyskogo Novogo Universiteta. 2013. No. 2. Pp. 188-195.
Murphy P., Pritchard M.P., Smith B., The destination product and its impact on traveller perceptions//Tourism Management. 2000. Vol. 21. Pp. 43-52.
Tocquer G.E., Zins M. Marketing do Turismo//Instituto Piaget, World Tourism Organization. 2004.
Vainikka V. Tourist guide reflections on the spatialities of mass tourism: A case study of Finnish package tourism in Crete//Fennia: International Journal of Geography. 2016. Vol. 194. No. 1. Pp. 64-78.
Еще