Дискуссионные представления о двусмысленности медицины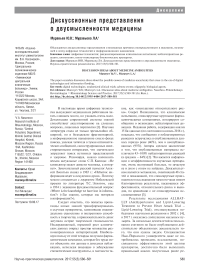 Обсуждаются дискуссионные представления о возможных причинах неопределенности в медицине, возникшей в эпоху цифровых технологий и информационного наводнения.
Цифровые технологии, рандомизированные клинические испытания, неблагоприятные реакции, олигополия, генно-инженерные биологические препараты
Короткий адрес: https://sciup.org/14945866
IDR: 14945866   |   DOI: 10.14412/1995-4484-2017-580-581
Список литературы
Дискуссионные представления о двусмысленности медицины
Unnikrishnan MK. Eminence or Evidence? The Volatility, Uncertainty, Complexity, and Ambiguity in Healthcare. J Pharmacol Pharmacother. 2017; 8(1): 1-2 DOI: 10.4103/jppJPP_12_17
Golder S, Loke YK, Wright K, Norman G. Reporting of adverse events in published and unpublished studies of health care interventions: A systematic review. PLoS Med. 2016; 13: e1002127.
Lundh A, Sismondo S, Lexchin J, et al. Industry sponsorship and research outcome. Cochrane Database of Systematic Reviews 2012; 12: MR000033 DOI: 10.1002/14651858.MR000033.pub2
ALLHAT Officers and Coordinators for the ALLHAT Collaborative Research Group. Major outcomes in moderately hypercholesterolemic, hypertensive patients randomized to pravastatin vs usual care: the Antihypertensive and LipidLowering Treatment to Prevent Heart Attack Trial (ALLHAT-LLT). JAMA. 2002; 288(23): 2998-3007 DOI: 10.1001/jama.288.23.2998
Han BH, Sutin D, Williamson JD, et al. Effect of statin treatment vs usual careon primary cardiovascular prevention among older adults the ALLHAT-LLT randomized clinical trial. JAMA Intern Med. 2017 May 22 DOI: 10.1001/jamainternmed.2017.1442
Abramson JD, Rosenberg HG, Jewell N, Wright JM. Should people at low risk of cardiovascular disease take a statin? BMJ. 2013; 347: f6123 DOI: 10.1136/bmj.f6123
Collins R, Reith C, Emberson J, et al. Interpretation of the evidence for the efficacy and safety of statin therapy. Lancet. 2016; 388: 2532-61 DOI: 10.1016/S0140-6736(16)31357-5
Heath I, Evans S, Furberg C, et al. Report of the independent panel considering the retraction of two articles in the BMJ. BMJ. 2014; 349: g5176 DOI: 10.1136/bmj.g5176
Holleman F, Uijldert M, Donswijk LF, Gale EA. Productivity of authors in the field of diabetes: Bibliographic analysis of trial publications. BMJ. 2015; 351: h2638 DOI: 10.1136/bmj.h2638
Zink A, Strangfeld A, Schneider M, et al. Effectiveness of tumor necrosis factor inhibitors in rheumatoid arthritis in an observational cohort study: comparison of patients according to their eligibility for major randomized clinical trials. Arthritis Rheum. 2006; 54: 3399-407 DOI: 10.1002/art.22193
Aaltonen KJ, Ylikylä S, Tuulikki Joensuu J, et al. Efficacy and effectiveness of tumour necrosis factor inhibitors in the treatment of rheumatoid arthritis in randomized controlled trials and routine clinical practice. Rheumatology (Oxford). 2017; 56(5): 725-35.
Еще