Ecological awareness: theory, phenomenon and interpretation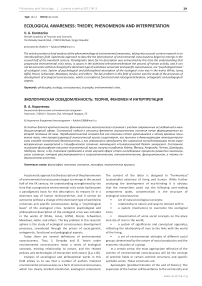 The article provides a brief analysis of the phenomenology of environmental awareness, taking into account current research in an interdisciplinary field. Systematic approach to describe the phenomenon of environmental consciousness began to emerge in the second half of the twentieth century. Paradigmatic basis for his description was entrenched by this time the understanding that progressive environmental crisis exists, it causes in the dominant tehnotsentricheskom the process of human activity, and it can not be overcome without changing the dominant type of worldview universals and specific consciousness, are "psychological base" of ecological crisis. System of psychological and philosophical description of the ecological crisis was in the works White, Jonas, Atfild, Peccei, Schweitzer, Meadows, Heslov, and others. The key problem in this field of science was the study of the processes of development of ecological consciousness, which is considered, functional and sotsiogeneticheskom, ontogenetic and pedagogical aspects.
Еще
Philosophy, ecology, consciousness, ecosophy, environmental crises
Короткий адрес: https://sciup.org/14110164
IDR: 14110164
Список литературы
Ecological awareness: theory, phenomenon and interpretation
Attfield R. The Ethics of Environmental Consern. N.Y., 1983.
Deryabo S.V., Yasvin V.A. Environmental Pedagogy and Psychology. Rostov-on-Don: Phoenix, 1996. 480 p.
Jonas H. The principle of responsibility. Experience of ethics for a technological civilization. Moscow: Iris Press, 2004.
Meadows, DH etc. The Limits to Growth//Proc. Reports. project the Club of Rome, 2nd ed. Moscow, 1991.
Medvedev, V., Aldasheva A., Environmental awareness: the manual. Ed. second, ext. Moscow: Logos, 2001. 384 p.
Peccei A. Human qualities. Moscow, 1985.
Schweitzer A. Reverence for Life. Moscow, 1992.
Shukurov E. Strategy of Environmental Education//-BA, № 3. 2009. p. 3.
Heslov B. Philosophy and the environment. Moscow: Nauka, 1993.
White L. The historical roots of our ecological crisis//Global problems and human values. 1990.