Financing activities of modern universities - approaches, challenges, problems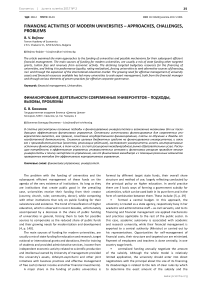 The article examined the main approaches to the funding of universities and possible mechanisms for their subsequent efficient financial management. The main sources of funding for modern universities, are usually a mix of state funding other targeted grants, tuition fees and revenues from economic activity. The declining targeted budgetary resources for the financing of universities, and linking it to performance (quality, rating realization), forcing universities to seek alternative sources of financing, incl. and through the expansion of the international education market. The growing need for effective management of university assets and financial resources available has led many universities to seek expert management, both from the financial manager and through various elements of proven practices for effective corporate governance.
Еще
Financial management, universities
Короткий адрес: https://sciup.org/14110154
IDR: 14110154   |   DOI: 10.15643/jscientia.2017.2.006
Список литературы
Financing activities of modern universities - approaches, challenges, problems
Закон за висшето образование, ДВ 112/1995, посл. изм. и доп. ДВ 98/2016
Asian Development Bank. Administration and governance of higher education in Asia: patterns and implications. Mandaluyong City, Philippines: Asian Development Bank, 2012.
Blackmore, J., Brennan, M., Zipin, L. (Eds.) Re-Positioning University Governance and Academic Work. Educational futures: rethinking theory and practice, Sense Publishers, Rotterdam, 2010.
Collis, D. The Paradox of Scope: A Challenge to the Governance of Higher Education. In Competing Conceptions of Academic Governance: Negotiating the Perfect Storm, Baltimore, MD: Johns Hopkins University Press, 2004.
Fielden, J. Global Trends in University Governance. Education Working Paper Series, N 9, The World bank, March, 2008.
Geuna, A., Muscio, A. The governance of University knowledge transfer. SPRU Electronic Working Paper Series, Paper No. 173, University of Sussex, September 2008.
Giovanna, L. University Governance at the Crossroads: The Italian Case. International Journal of Business Research and Development, Vol. 2 No. 2, 2013.
Harkavy, I., Hartley, M., Hodges, R., Sorrentino, A., Weeks, J. Effective Governance of a University as an Anchor Institution -University of Pennsylvania as a Case Study. Leadership and Governance in Higher Education, Volume No. 2, 2014.
https://en.wikipedia.org/wiki/Massive_open_online_course (last access 27.12.2016)
Kogan, M., Bleiklie, I. Organisation and Governance of Universities. Higher Education Policy 20, December 2007.
Еще