International Journal of Intelligent Systems and Applications
О журнале:
International Journal of Intelligent Systems and Applications (IJISA) is a peer reviewed journal in the field of Intelligent Systems and Applications. The journal is published 12 issues per year by the MECS Publisher from 2012. All papers will be blind reviewed. Accepted papers will be available on line (free access) and in printed version. No publication fee.
IJISA is publishing refereed, high quality original research papers in all areas of Intelligent Systems and Applications.
IJISA has been indexed by several world class databases: Scopus, Google Scholar, Microsoft Academic Search, CrossRef, DOAJ, IndexCopernicus, INSPEC(IET), EBSCO, JournalSeek, ULRICH's Periodicals Directory, WordCat, Scirus, Academic Journals Database, Stanford University Libraries, Cornell University Library, UniSA Library, CNKI Scholar, ProQuest, J-Gate, ZDB, BASE, OhioLINK, iThenticate, Open Access Articles, Open Science Directory, National Science Library of Chinese Academy of Sciences, The HKU Scholars Hub, etc...
The journal publishes original papers in the field of Intelligent Systems and Applications which covers, but not limited to the following scope:
Neural Networks
Evolutionary Computing and Genetic Algorithms
Fuzzy Systems and Soft Computing
Ant Colony Optimization
Particle Swarm Optimization
Artificial Fish School Algorithm
Artificial Life and Artificial Immune Systems
Systems Biology and Neurobiology
Support Vector Machine
Rough and fuzzy rough set
Knowledge Discovery and Data Mining
Kernel Methods
Supervised & Semi-supervised Learning
Cloud Computing
Evolutionary learning systems
Hybrid System
Man-Machine Interaction
CIMS and Manufacturing Systems
Factory Modeling and Simulation
Instrumentation Systems
Network-based Systems
Scheduling and Coordination
Process Automation
Automobile Electric
Sensor Fusion
Intelligent Mechatronics and Robotics
Intelligent Automation
Knowledge Management and Knowledge Engineering
Management Information Systems
Management of Supply Chain and Logistics
Financial Data Mining
Customer Relationship Management
Web Data Mining
Games Theory
System Theory and Control Theory
Nonlinear System and Control
Bayesian Network
Pervasive Computing
Modeling, Identification and Signal Processing
Fuzzy System and Fuzzy Control
Distributed Control Systems
Adaptive Control and Learning Control
Robust and H-infinity Control
Traffic Control
Communication Network Systems
Intelligence System Design
Учредители:
Modern Education & Computer Science Press
ISSN:
Печатный 2074-904X. Электронный 2074-9058.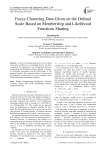 Fuzzy Clustering Data Given on the Ordinal Scale Based on Membership and Likelihood Functions Sharing
Статья научная
A task of clustering data given on the ordinal scale under conditions of overlapping clusters has been considered. It's proposed to use an approach based on membership and likelihood functions sharing. A number of performed experiments proved effectiveness of the proposed method. The proposed method is characterized by robustness to outliers due to a way of ordering values while constructing membership functions.
Бесплатно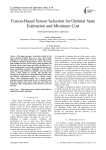 Fusion-Based Sensor Selection for Optimal State Estimation and Minimum Cost (Intelligent Optimization Approach)
Статья научная
This paper proposes a heuristic method for the sensor selection problem that uses a state vector fusion approach as a data fusion method. We explain the heuristic to estimate a stationary target position. Given a first sensor with specified accuracy and by using genetic algorithm, the heuristic selects second sensor such that the fusion of two sensor measurements would yield an optimal estimation in a target localization scenario. Optimality in our method means that a trade-off between estimation error and cost of sensory system should be created. The heuristic also investigates the importance of proportion between the range and bearing measurement accuracy of selected sensor. Monte Carlo Simulation results for a target position estimation scenario showed that the error in heuristic is less than the estimate error where sensors are used alone for estimation, while considering the trade-off between cost and accuracy.
Бесплатно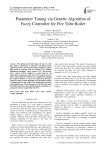 Parameter Tuning via Genetic Algorithm of Fuzzy Controller for Fire Tube Boiler
Статья научная
The optimal use of fuel energy and water in a fire tube boiler is important in achieving economical system operation, precise control system design required to achieve high speed of response with no overshot. Two artificial intelligence techniques, fuzzy control (FLC) and genetic-fuzzy control (GFLC) applied to control both of the water/steam temperature and water level control loops of boiler. The parameters of the FLC are optimized to locating the optimal solutions to meet the required performance objectives using a genetic algorithm. The parameters subject to optimization are the width of the membership functions and scaling factors. The performance of the fire tube boiler that fitted with GFLC has reliable dynamic performance as compared with the system fitted with FLC.
Бесплатно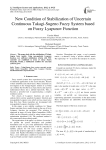 New Condition of Stabilization of Uncertain Continuous Takagi-Sugeno Fuzzy System based on Fuzzy Lyapunov Function
Статья научная
This paper deals with the stabilization of Takagi-Sugeno fuzzy models. Using non-quadratic Lyapunov function, new sufficient stabilization criteria with PDC controller are established in terms of Linear Matrix Inequality. Finally, a stabilization condition for uncertain system is given.
Бесплатно