Институциональные реформы и гражданская культура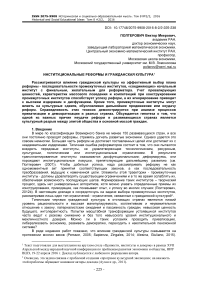 Рассматривается влияние гражданской культуры на эффективный выбор плана реформы - последовательности промежуточных институтов, «соединяющих» начальный институт с финальным, желательным для реформатора. Учет превалирующих ценностей, характеристик массового поведения и компетенций при конструировании промежуточных институтов способствует успеху реформ, а их игнорирование приводит к высоким издержкам и дисфункциям. Кроме того, промежуточные институты могут влиять на культурные сдвиги, обусловливая дальнейшее продвижение или неудачу реформ. Справедливость этих тезисов демонстрируется при анализе процессов приватизации и демократизации в разных странах. Обсуждается гипотеза о том, что одной из важных причин неудачи реформ в развивающихся странах является культурный разрыв между элитой общества и основной массой граждан.
Еще
Короткий адрес: https://sciup.org/14951184
IDR: 14951184   |   DOI: 10.17748/2075-9908-2016-8-2/2-225-238
Список литературы
Институциональные реформы и гражданская культура
Аузан А.А., Архангельский А.Н., Лунгин П.С., Найшуль В.А.(2011). Доклад «Культурные факторы модернизации». Москва, Санкт-Петербург. 221 с.
Белянин А.В., В.П. Зинченко (2010). Доверие в экономике и общественной жизни. М.: Фонд «Либеральная миссия». 164 с.
Голдстоун Дж. (2006). К теории революции четвертого поколения. Логос, № 5(56). 58-103.
Гудков Л. (2000). Отношение к правовым институтам в России. Мониторинг общественного мнения, т. 3 (47), Май-Июнь, 30-38.
Дементьев В. (2004). Доверие -фактор функционирования и развития современной рыночной экономики. Российский экономический журнал. № 8.
Катышев П.К., Полтерович В.М. (2006). Политика реформ, начальные условия и трансформационный спад. Экономика и математические методы. Т. 42, No. 4.
Константинов Г., Липсиц И., Филонович С. (2002). Как выбраться из ловушки молодости? Эксперт, No. 8, 25 февраля.
Левада Ю. (2000). Человек лукавый: двоемыслие по-российски. Мониторинг общественного мнения. N. 1 (45). М.: ВЦИОМ. 19-27.
Полтерович В.М. (2007). Элементы теории реформ. М.: Экономика, 446 с.
Полтерович В.М. (2013). Приватизация и рациональная структура собственности. Часть 2. Рационализация структуры собственности. Экономическая наука современной России, № 1 (60). С. 7-24.
Полтерович В.М. (2012а). Приватизация и рациональная структура собственности. Часть 1. Приватизация: проблема эффективности. Экономическая наука современной России, № 4 (59). С. 7-23.
Полтерович В.М. (2012b). Проектирование реформ: как искать промежуточные институты. Montenegrin Journal of Economics, Vol. 8, № 2, 25-44.
Полтерович В., Попов В. (2007). Демократизация и экономический рост. Общественные науки и современность, № 2. С. 13-27.
Полтерович В.М., Старков О.Ю (2007). Формирование ипотеки в догоняющих экономиках: проблема трансплантации. М.: Наука, 2007. 196 с.
Полтерович В.М. (2014). Куда идти: двадцать четыре тезиса. Экономическая наука современной России. № 3 (66) С. 7-16.
Радаев В.В. (1998).Формирование новых российских рынков: трансакционные издержки, формы контроля и деловая этика. М: Центр политических технологий.
Тамбовцев В.Л. (2015). Миф о «культурном коде» в экономических исследованиях. Вопросы экономики, № 12, 85-106.
Циммерман У., Инглхарт Р., Понарин Э.и др. (2013). Российская элита -2020. Аналитический доклад грантополучателей Международного дискуссионного клуба «Валдай». М.: РИАНОВОСТИ.123с.
Acemoglu D., Naidu S., Restrepo P., Robinson J.A. (2014). Democracy Does Cause growth. Working Paper 20004. National Bureau of Economic Research. Cambridge, MA. 64 pp. http://www.nber.org/papers/w20004
Acemoglu D., and Robinson J.A. (2006). Economic Origins of Dictatorship and Democracy. New York: Cambridge University Press. 416 pp.
Albertus M., Menaldo V. (2014). Gaming Democracy: Elite Dominance during Transition and the Prospects for Redistribution. British Journal of Political Science, Vol. 44, Issue 03, 575-603. http://political-science.uchicago.edu/people/faculty/Albertus%20Gaming%20Democracy.pdf
Alesina A., Giuliano P. (2015). Culture and Institutions. IZA, Discussion Paper No. 9246. 66 pp.
Almond, Gabriel A., and Verba, Sidney (1963). The Civic Culture. Political Attitudes and Democracy in Five Nations. Princeton: Princeton University Press. 562 pp.
Bakanova M., Estrin S., Pelipas I., Pukovich S. (2006). Enterprise Restructuring in Belarus. Discussion Paper No. 2148, IZA, Bonn.32 pp.
Boubakri N., Guedhami O., Kwok Ch.С.Н., Saffar W. (2015). National Culture and Privatization: The Relationship between Collectivism and Residual State Ownership. 34 pp.
Cardoso J.L., Mendonca P. (2012). Corporatism and beyond: an assessment of recent literature.Working Papers ICS. 31 pp
Carothers T. (2002).The End of the Transition Paradigm. Journal of Democracy, vol. 13, no 1, 5-21.
Chang, H. (2007). State-Owned Enterprise Reform. United Nations. Department for Economic and Social Affairs. National Development Strategies. Policy notes.
Chang, R., Hevia C., Loayza N. (2009). Privatization and Nationalization Cycles. World Bank Policy Research Working Paper No. 5029.
Chua, Amy. (1995). The Privatization-Nationalization Cycle: The Link Between Markets and Ethnicity in Developing Countries. Faculty Scholarship Series. Paper 342. http://digitalcommons.law.yale.edu/fss_papers/342
Conradt D.P. (1989). Changing German Political Culture. In: Almond, Gabriel A., and Verba, Sidney (eds.). The Civic Culture Revisited. Newbury Park. Sage Publications. 212-272.
Crivelli E. (2013). Fiscal impact of privatization revisited: The role of tax revenues in transition economies. Economic Systems, 37(2). 217-232.
Eller M., Denisova I.A., Frye T., and Zhuravskaya E. (2012). Everyone hates privatization, but why? Survey evidence from 28 post-communist countries. Journal of Comparative Economics, vol. 40, № 1, pp. 44-61.
Estrin Saul, Jan Hanousek, Evzen Kocenda, Jan Svejnar. The Effects of Privatization and Ownership in Transition Economies//Journal of Economic Literature, 47:3, 2009, pp. 1-30.
Gerring, J., P. Bond, W. Barndt, and C. Moreno (2005). Democracy and Growth: A Historical Perspective, World Politics, 57 (3), 323-64.
Guidi, Marco E.L. (2000). Corporative Economics and the Italian Tradition of Economic Thought: a Survey. Storia del Pensiero Economico, 40. pp. 31-58. ISSN 1593-8603. http://eprints.adm.unipi.it/1275/1/guidi.htm
Guiso L., Sapienza P., and Zingales L. (2014). "Long-Term Persistence," Kellogg School of Management. 33 pp. https://www.google.ru/search?hl=ru&newwindow=1&output=search&sclient=psyab&q=Long-term+Persistence&oq=&gs_l=&pbx=1&gws_rd=ssl
Horvath R.(2012). Does Trust Promote Growth? IES Working Paper 9/2012. IES FSV. Charles University. 33p.
Inglehart R. (2000). Globalization and Postmodern Values. The Washington Quarterly, Volume 23, Number 1, Winter. 215-228.
Inglehart R., Welzel Ch. (2010). Changing Mass Priorities: The Link between Modernization and Democracy. Perspectives on Politics 8 (2), 551-567.
Inglehart R. and Welzel Ch. (2005). Modernization, Cultural Change and Democracy. New York, Cambridge University Press. 52 pp.
Jermakowicz W., Kozarzewski P. (1997). Privatization in Mongolia. Center for Social and Economic Research. Warszaw. 42 pp.
Johnson C. (1999). The Developmental State: Odyssey of a Concept. In: The Developmental State. Woo-Cumings M. (ed.). Ithaca, N.Y.:Cornell University Press. P. 32-60.
Knott J.H., Miller G.J. (1987). Reforming Bureaucracy. The Politics of Institutional Choice. Prentice-Hall, Englewood Cliffs, New Jersey. 290 pp.
Kornai J., Rothstein B., Rose-Ackerman S. (eds.) (2004). Creating Social Trust in Post-Socialist Transition. N.Y.: Palgrave Macmillan.
Lijphart A. (2012) Patterns of Democracy. Government Forms and Performance in Thirty-six Countries. Second Edition. New Haven: Yale University Press.
Masse P. (1965). The French Plan and Economic Theory. Econometrica. Vol. 33, No 2.
McNamara D. (1999). From Patron to Partner: Korean State Role in the Textile Transition. In: McNamara D. (ed.) Corporatism and Korean Capitalism. London: Routledge. 95-109.
Menaldo V. (2015) Democracy, Elite-bias and Redistribution in LATAM. http://papers.ssrn.com/sol3/papers.cfm?abstract_id=1820866
Molina O., Rhodes M. (2002). Corporatism: The past, present, and future of a concept. Annual review of political science 5 (1), 305-331 pp.
Phelps, Edmund S.(2009). Capitalism vs. Corporatism, Critical Review, 21: 4, 401-414 pp.
Polterovich V. (2000). Civic Culture and Economic Transition in Russia. A revised version of the paper that was presented at the 15-th Annual Congress of the European Economic Association (Bozen-Bolzano, 30-th August -2-nd September 2000).
Polterovich V., Popov V. (2007). Democratization, Institutional Quality and Economic Growth. In: Dinello N., Popov V. (eds.). Political Institutions and Development. Failed Expectations and Renewed Hopes. Edwards Edgar Publishing. Chapter 3.
Purju A. (1996).The Political Economy of Privatisation in Estonia. Edinburgh, Centre for Economic Reform and Transformation. 50pp.
Roland, G. (2004). Understanding Institutional Change: Fast-Moving and Slow-Moving Institutions. Studies in Comparative International Development, 38(4), 109-131.
Stiglitz J. Globalization and its discontents. New York: W.W. Norton and Company, Inc. 288p.
Unger J., and Chan A. (2015). State Corporatism and Business Associations in China: A Comparison with Earlier Emerging Economies of East Asia. International Journal of Emerging Markets, Vol. 10, No. 2, 178193.
Welzel C. (2011). The Asian Values Thesis Revisited: Evidence from the World Values Surveys. Japanese Journal of Political Science, 12 (1), 1-31.
Еще