Intellectual potential of population: theoretical and methodological framework for research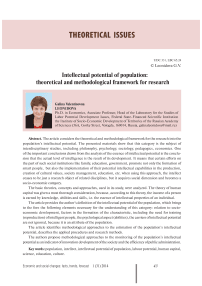 The article considers the theoretical and methodological framework for the research into the population's intellectual potential. The presented materials show that this category is the subject of interdisciplinary studies, including philosophy, psychology, sociology, pedagogics, economics. One of the important conclusions drawn from the analysis of the essence of intellectual potential is the conclu- sion that the actual level of intelligence is the result of its development. It means that certain efforts on the part of such social institutions like family, education, government, promote not only the formation of smart people, but also the implementation of their potential intellectual capabilities in the production, creation of cultural values, society management, education, etc. when using this approach, the intellect ceases to be just a research object of related disciplines, but it acquires social dimension and becomes a socio-economic category. The basic theories, concepts and approaches, used in its study, were analyzed...
Еще
Population, intellect, intellectual potential of population, labour potential, human capital, science, education, culture
Короткий адрес: https://sciup.org/147223561
IDR: 147223561   |   DOI: 10.15838/esc/2014.1.31.6
Список литературы
Intellectual potential of population: theoretical and methodological framework for research
Tomas Aquinas. Summa Theologica. Kyiv: El'ga, Nika-Tsentr, El'-kor-MK, Ekslibris, 2002.
Bagdasarov M.I. Intellektual'nyy kapital v sisteme korporativnykh otnosheniy: avtoref. diss k. s. n. . Moscow, 2008.
Becker G. Chelovecheskoe povedenie: ekonomicheskiy podkhod . Izbrannye trudy po ekonomicheskoy teorii . Compiled by R.I. Kapelyushnikov. Moscow: GU-VShE, 2003.
Bol'shaya Sovetskaya Entsiklopediya: v 30 t. T. 20 . Ed. by A.M. Prokhorov. 3rd edition. Moscow: Sovetskaya entsiklopediya, 1975.
Zvereva N.V. Chelovecheskiy potentsial ustoychivogo innovatsionnogo razvitiya Rossii . Available at: http://igpr.ru/library/zvereva_nv_chelovecheskij_otencial_ustojchivogo_innovacionnogo_razvitija_rossii (accessed February 10, 2014)
Ilyin V.A., Gulin K.A., Uskova T.V. Intellektual'nye resursy kak faktor innovatsionnogo razvitiya . Ekonomicheskie i sotsial'nye peremeny: fakty, tendentsii, prognoz , 2010, no.3.
Kleyner G.B., Tambovtsev V.A., Kachalov R.M. Predpriyatie v nestabil'noy ekonomicheskoy srede: riski, ekonomicheskie strategii, bezopasnost' . Ed. by S.A. Panov. Moscow: Ekonomika, 1997.
Kontseptsiya dolgosrochnogo sotsial'no-ekonomicheskogo razvitiya Rossiyskoy Federatsii na period do 2020 goda: utv. rasporyazheniem Pravitel'stva Rossiyskoy Federatsii ot 17 noyabrya 2008 g. № 1662-r. .
Kudina M.V. Upravlenie intellektual'nym potentsialom kompanii kak element korporativnogo upravleniya . Gosudarstvennoe upravlenie: Elektronnyy vestnik , 2010, no. 22, March.
Lagutina L.G. Upravlenie intellektual'nym potentsialom regiona v usloviyakh formiruyushcheysya innovatsionnoy ekonomiki: makroekonomicheskiy aspekt: avtoref. dis. k.e.n. . Moscow: NOU VPO "Moskovskiy institut ekonomiki, menedzhmenta i prava", 2009.
Laychuk O.V., Nikolaeva L.A. Intellektual'no-informatsionnyy potentsial: voprosy teorii i praktiki: monografiya . Irkutsk: VGUEP Publ., 2009.
Lezhnina Yu.P. Vzaimosvyaz' sotsial'no-ekonomicheskikh pokazateley regiona s intellektual'nym potentsialom ego naseleniya . Trudy SGU , 2006, Issue 99 (Humanities. Psychology and Sociology of Education).
Leonidova, G.V. Napravleniya otsenki intellektual'nogo potentsiala . Federalizm , 2011, no.2.
Leont'ev B.B. Tsena intellekta. Intellektual'nyy kapital v biznese . Moscow: Izdatel'skiy tsentr "Aktsioner", 2009.
Makrusev V.V., Paukov A.A. Sistema transgranichnoy zashchity intellektual'noy sobstvennosti: monografiya . Moscow: RTA, 2005.
Martynov A.F. Vosproizvodstvo intellektual'nogo potentsiala: otsenka, modelirovanie, metodologiya upravleniya: avtoref. diss. d.e.n. . Moscow, 2008.
Marusinina E.Yu. Upravlenie intellektual'nymi resursami predpriyatiya v ramkakh realizatsii kontseptsii vnutriorganizatsionnogo marketinga: avtoref. diss. k. e. n. . Volgograd, 2007.
Ovsyannikov A.A. Potentsial modernizatsii vysshey shkoly Rossii: kommunikatsii kompetentnostey professury i studenchestva . Narodonaselenie , 2011, no.4.
Osnovy politiki RF v oblasti razvitiya nauki i tekhnologiy na period do 2020 goda i dal'neyshuyu perspektivu: utv. Prezidentom RF 11 yanvarya 2012 g. № Pr-83 .
Regulirovanie innovatsionnykh protsessov v regione . Ed by. G.A. Krayukhin. Saint Petersburg: SPbGIEA, 1997.
Rimashevskaya, N.M. Kachestvo chelovecheskogo potentsiala v sovremennoy Rossii /N.M. Rimashevskaya. -Rezhim dostupa: http://spkurdyumov.narod.ru/Rimash1.htm.
Rimashevskaya N.M. O metodologii opredeleniya kachestvennogo sostoyaniya naseleniya . Demografiya i sotsiologiya , 1993, Issue 6.
Rutkevich M.N., Levashov V.K. O ponyatii intellektual'nogo potentsiala i sposobakh ego izmereniya . Naukovedenie , 2000, no. 1.
Sokhan' A.V. Intellektual'nyy potentsial lichnosti . Sotsial'naya struktura sotsialisticheskogo obshchestva . Moscow: Nauka, 1983.
Subetto A.I. Rossiya i chelovechestvo na "perevale" istorii v preddverii tret'ego tysyacheletiya . Saint Petersburg: PANIL, 1999.
Tatarkin A.I. Intellektual'nyy resurs obshchestva . Vestnik Rossiyskoy akademii nauk , 2011, vol. 81, no. 8.
Ilyin V.A., Gulin K.A., Leonidova G.V., Davydova V.V. Trudovoy potentsial regiona: sostoyanie i razvitie . Vologda: VNKTs TsEMI RAN, 2004.
Chebotarev N.F. Innovatsionnaya deyatel'nost' kak glavnyy istochnik povysheniya blagosostoyaniya i razvitiya chelovecheskogo kapitala . Audit i finansovyy analiz , 2007, no.2.
Shakirova D.M. Kriterii otsenki intellektual'nogo i obrazovatel'nogo potentsialov v informatsionnom obshchestve . Obrazovatel'nye tekhnologii i obshchestvo , 2010, vol. 13, no.3.
Chardin P.T. Fenomen cheloveka . Moscow: Progress, 1987.
Yudina S., Sharifullina G. Otsenka intellektual'noy sostavlyayushchey natsional'nogo trudovogo potentsiala . Chelovek i trud , 2010, no. 4.
Еще