Историко-археологический контекст времени правления древнеизраильского царя Давида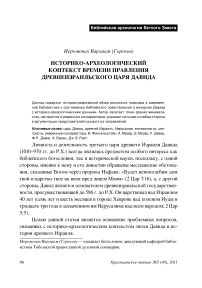 Доклад содержит историографический обзор различных подходов в современной библеистике к соотнесению библейского повествования о монархии Давида с историко-археологическими данными. Автор излагает точки зрения минималистов, центристов и умеренных консерваторов, указыват сильные и слабые стороны в аргументации представителей каждого из направлений.
Царь давид, древний израиль, иерусалим, минималисты, центристы, умеренные консерваторы, и. финкельштейн, а. мазар, э. мазар, у. девер, ф.р. дэвис, а. биран, дж.э. райт
Короткий адрес: https://sciup.org/140189939
IDR: 140189939
Список литературы
Историко-археологический контекст времени правления древнеизраильского царя Давида
Мазар А. Археология библейской земли. Т. 2. Иерусалим: Библио-тека «Алия», 1996.
Райт Дж.Э. Библейская археология. СПб.: «Издательство Олега Абышко», 2003.
Циркин Ю.Б. История библейских стран. М.: «Астрель», 2003.
Davies P.R. In Search of "Ancient Israel". London -N. Y., 1992.
Davies P.R. House of David: Built on Sand//BAR. 1994. 20:04.
Dever W.G. Histories and Non-Histories of Ancient Israel: What Archaeology Can Contribute//Recent Trends in Reconstructing the History of Ancient Israel (Rome, Accademia Nazionale dei Lincei, March 6-7, 2003). URL: http://www.orientalisti.net/trends.htm (дата обращения: 10.05.2011).
Finkelstein I., Mazar A. The Quest for the Historical Israel. Debating Archaeology and the History of Early Israel/Ed. by B.B. Schmidt. Leiden, Boston, 2007.
Finkelstein I., Sillberman N.A. The Bible Unearthed. Archeology's New Vision of Ancient Israel and the Origin of Its Sacred Texts. 2001.
Frick S.F. Social Science Methods and Theories of Significance for the Study of the Israelite Monarchy//Semeia. 1986. 37. P. 9-52.
Friis H. Die Bedingungen für die Errichtung des davidischen Reiches in Israel und seiner Umwelt//Dielheimer Blätter zum alter Testament. Heidelberg. 1986. № 6.
Garbini G. The Aramaic Inscription from Tel Dan. URL: http://www.geocities.com/Paris/LeftBank/5210/tel_dan.htm (дата обращения: 10.05.2011).
Garbini G. History and Ideology in Ancient Israel. London, 1988.
Garbini G. Myth and History in the Bible. Sheffield, 2003.
Goldwasser O. An Egyptian Scribe from Lachish and the Hieratic Tradition of the Hebrew Kingdoms//Tel Aviv. 1993. 18.
Kenyon K.M. Archeology in the Holy Land. New York, 1979.
Kitchen K. On the Reliability of the Old Testament. Cambridge, 2003.
Lemaire A. "House of David" Restored in Moabite Inscription//BAR. 1994. 20:03.
Liverani M. Israel's History and the History of Israel. London, 2005.
Mazar E. Did I Find King David's Palace?//BAR. 2006. 32:1.
Mazar E. Unique Biblical Discovery at City of David Excavation Site//Israel Ministry of Foreign Affairs. URL: http://www.mfa.gov.il/MFA/History/Early+History+-+Archaeology/Unique+biblical+discovery+at+City+of+David+excavation+site+18-Aug-2008.htm (дата обращения: 10.09.2011).
Na'aman N. The Contribution of the Amarna Letters to the Debate on Jerusalem's Political Position in the Tenth Century B.C.E.//Bulletin of the American Schools of Oriental Research. 1996. № 304 (Nov.).
Schafer-Lichtenberger C. Sociological and Biblical Views of the Early State//The Origins of the Ancient Israelite States/Ed. by V. Fritz and P.R. Davies. Sheffield, 1996.
The Devil Is Not So Black As He Is Painted: BAR Interviews Israel Finkelstein//BAR. 2010. 36:03.
The Early Monarchy in Israel: the Tenth Century B.C./Ed. by W. Dietrich. Atlanta: Society of Biblical Literature, 2007.
Thompson L.T. Early History of the Israelite People from the Written & Archaeological Sources. Leiden, 1990.
Еще