Местные осложнения эндопротезирования тазобедренного и коленного суставов у пациентов с ревматоидным артритом и остеоартритом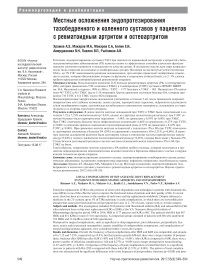 Тотальное эндопротезирование суставов (ТЭС) при наличии их выраженной деструкции и артралгий у больных ревматическими заболеваниями (РЗ) является одним из эффективных способов улучшения функционального состояния пациентов и повышения их качества жизни. В последние годы во всем мире возрастает число таких операций на коленных и тазобедренных суставах. Несмотря на достигнутые успехи медицины XXI в., до 5% ТЭС заканчиваются ранними осложнениями, при которых происходят необратимые изменения в суставе, которые обусловливают потерю его функции и сохранение стойких болей, а в 2-3% случаев требуют проведения повторной ранней ревизионной операции. Материал и методы. В исследование включено 2142 больных ревматоидным артритом (РА) и остеоартритом (ОА), которым проводилось ТЭС коленных (ТЭКС) и тазобедренных (ТЭТС) суставов в ФГБНУ НИИР им. В.А. Насоновой в период с 1998 по 2016 г.: ТЭТС - 1177 больным и ТЭКС - 965. Пациентам с РА выполнено 467 ТЭТС и 651 ТЭКС (всего 1118 операций). Группу сравнения составили больные ОА, которым проведено 710 ТЭТС и 314 ТЭКС (всего 1024 операции). Послеоперационные хирургические осложнения учитывались в течение 2 лет после проведения операций: поверхностное или глубокое нагноение, вывих сустава, перипротезные переломы, нейропатии седалищного и/или малоберцового нерва, асептическая нестабильность компонентов эндопротеза, осложнения со стороны раны и со стороны связочного аппарата. Результаты и обсуждение. В целом частота местных осложнений при ТЭТС и ТЭКС была сопоставимой и составила 7,22 и 7,25% соответственно (р=0,83), однако их структура существенно различалась: при ТЭТС отмечено большее число перипротезных переломов - 3,48%, по сравнению с 0,93% (р
Еще
Эндопротезирование коленного сустава, эндопротезирование тазобедренного сустава, ревматические заболевания, осложнения, перипротезные переломы, инфекция, нейропатия, нестабильность, вывих
Короткий адрес: https://sciup.org/14945860
IDR: 14945860   |   DOI: 10.14412/1995-4484-2017-549-554
Список литературы
Местные осложнения эндопротезирования тазобедренного и коленного суставов у пациентов с ревматоидным артритом и остеоартритом
NIH consensus conference: Total hip replacement. NIH Consensus Development Panel on Total Hip Replacement. . JAMA. 1995 Jun 28; 273(24): 1950-6.
Jones CA, Beaupre LA, Johnston DWC, Suarez-Almazor ME. Total joint arthroplasties: current concepts of patient outcomes after surgery. [Review]. Rheum Dis Clin N Am. 2007 Feb; 33(1): 71-86 DOI: 10.1016/j.rdc.2006.12.008
Merx H, Dreinhofer K, Schrader P, et al. International variation in hip replacement rates. Ann Rheum Dis. 2003 Mar; 62(3): 222-6 DOI: 10.1136/ard.62.3.222
Ravi B, Croxford R, Reichmann W, et al. The changing demographics of total joint arthroplasty recipients in the United States and Ontario from 2001 to 2007. Best Pract Res Clin Rheumatol. 2012; 26(5): 637-47 DOI: 10.1016/j.berh.2012.07.014
Santaguida PL, Hawker GA, Hudak PL, et al. Patient characteristics affecting the prognosis of total hip and knee joint arthroplasty: a systematic review. . Can J Surg. 2008 Dec; 51(6): 428-36.
Heck DA, Melfi CA, Mamlin LA, et al. Revision rates after knee replacement in the United States. Med Care. 1998 May; 36(5): 661-9 DOI: 10.1097/00005650199805000-00006
Papakostidou I, Dailiana ZH, Liaropoulos L, et al. Factors affecting the quality of life after total knee arthroplasties: a prospective study. BMC MusculoskeletDisord. 2012 Jun 29; 13: 116 DOI: 10.1186/1471-2474-13-116
Линник СА, Ромашов ПП, Новоселов КА и др. Раннее двухэтапное ревизионное эндопротезирование тазобедренного и коленного суставов после глубокого нагноения. Травматология и ортопедия. 2009; (3): 151-5
Bauer T, Parvizi J, Kobayashi N, Krebs V. Diagnosis of Periprosthetic Infection. J Bone Jt. Surg. 2006; 4: 869-80.
Giulieri SG, Graber P, Ochsner PE, Zimmerli W. Management of infection associated with total hip arthroplasty according to a treatment algorithm. [Erratum appears in Infection. 2004 Oct; 32(5): 309]. Infection. 2004 Aug; 32(4): 222-8 DOI: 10.1007/s15010-004-4020-1
Horan TC, Gaynes RP, Martone WJ, et al. CDC definitions of nosocomial surgical site infections, 1992: a modification of CDC definitions of surgical wound infections. [Comparative Study]. Infect Control Hosp Epidemiol. 1992 Oct; 13(10): 606-8 DOI: 10.1017/S0195941700015241
Moureau N. Vascular safety: it's all about PICCs. Nurs Manag. 2006 May; 37(5): 22-7; quiz 50 DOI: 10.1097/00006247200605000-00007
Toms AD, Davidson D, Masri BA, Duncan CP. The management of peri-prosthetic infection in total joint arthroplasty. J Bone Joint Surg Br. 2006 Feb; 88(2): 149-55 DOI: 10.1302/0301-620X.88B2.17058
Clyburn TA, Cui Q. Antibiotic laden cement: Current state of the art. AAOS Now. 2013; 7(6) (Available online: http://www.aaos.org/news/bulletin/may07/clinical7.asp).
De Palma L, Procaccini R, Soccetti A, Marinelli M. Hospital cost of treating early dislocation following hip arthroplasty. Hip International. 2012 Jan-Feb; 22(1): 62-7 DOI: 10.5301/HIP.2012.9059
Ключевский ВВ, Даниляк ВВ, Белов МВ и др. Вывихи после тотального замещения тазобедренного сустава: факторы риска, способы лечения. Травматология и ортопедия. 2009; (3): 136-8
Kwon MS, Kuskowski M, Mulhall KJ, et al. Does surgical approach affect total hip arthroplasty dislocation rates? Clin Orthop. 2006 Jun; 447: 34-8 DOI: 10.1097/01.blo.0000218746.84494.df
Richards CJ, Garbuz DS, Masri BA, Duncan CP. Vancouver type B3 periprosthetic fractures: evaluation and treatment. Instruct Course Lect. 2009; 58: 177-81.
Волокитина ЕА, Зайцева ОП, Колотыгин ДА, Вишняков АА. Локальные интраоперационные и ранние послеоперационные осложнения эндопротезирования тазобедренного сустава. Гений ортопедии. 2009; (3): 71-7
Mounasamy V. Acute sciatic neuritis following total hip arthroplasty: a case report. Arch Orthop Trauma Surg. 2008; 128: 25-8 DOI: 10.1007/s00402-006-0261-z
Руцкий АВ, Маслов АП. К проблеме эндопротезирования крупных суставов. Медицинские новости. 2005; (12): 73-6
Pellicci PM, Wilson PD Jr, Sledge CB, et al. Long-term results of revision total hip replacement: a follow-up report. J Bone Joint Surg. 1985; 67-A: 513-6 DOI: 10.2106/00004623-198567040-00002
Raikin S.M. Total ankle arthroplasty. Orthopedics. 2010 Dec; 33(12): 890-1 DOI: 10.3928/01477447-20101021-18
Parker DA, Dunbar MJ, Rorabeck CH. Extensor mechanism failure associated with total knee arthroplasty: prevention and management. J Am Acad Orthop Surg. 2003; 11(4): 238-47 DOI: 10.5435/00124635-200307000-00003
Burns AWR, Bourne RB, Chesworth BM, et al. Cost effectiveness of revision total knee arthroplasty. [Comparative Study]. Clin Orthop. 2006 May; 446: 29-33 DOI: 10.1097/01.blo.0000214420.14088.76
Bozic KJ, Katz P, Cisternas M, et al. Hospital resource utilization for primary and revision total hip arthroplasty. J Bone Joint Surg -Amer Vol. 2005 Mar; 87(3): 570-6 DOI: 10.2106/00004623-200503000-00014
Bongartz T, Halligan CS, Osmon DR, et al. Incidence and risk factors of prosthetic joint infection after total hip or knee replacement in patients with rheumatoid arthritis. Arthritis Rheum. 2008 Dec 15; 59(12): 1713-20 DOI: 10.1002/art.24060
Schrama JC, Espehaug B, Hallan G, et al. Risk of revision for infection in primary total hip and knee arthroplasty in patients with rheumatoid arthritis compared with osteoarthritis: a prospective, population-based study on 108,786 hip and knee joint arthroplasties from the Norwegian Arthroplasty Register. Arthritis Care Res (Hoboken). 2010 Apr; 62(4): 473-9 DOI: 10.1002/acr.20036
Boursinos LA, Karachalios T, Poultsides L, Malizos KN. Do steroids, conventional non-steroidal anti-inflammatory drugs and selective Cox-2 inhibitors adversely affect fracture healing? . J Musculoskelet Neur Interact. 2009 Jan-Mar; 9(1): 44-52.
Gravallese EM. Bone destruction in arthritis. Ann Rheum Dis. 2002 Nov; 61 Suppl 2: ii84-6 DOI: 10.1136/ard.61.suppl_2.ii84
Mikuls TR, Saag KG, Curtis J, et al. Prevalence of osteoporosis and osteopenia among African Americans with early rheumatoid arthritis: the impact of ethnic-specific normative data. . J Nat Med Assoc. 2005 Aug; 97(8): 1155-60.
Goldring SR. Periarticular bone changes in rheumatoid arthritis: pathophysiological implications and clinical utility. Ann Rheum Dis. 2009 Mar; 68(3): 297-9 DOI: 10.1136/ard.2008.099408
Слободской АБ, Осинцев ЕЮ, Лежнев АГ. Осложнения эндопротезирования тазобедренного сустава. Вестник травматологии и ортопедии. 2011; (3): 59-63 .
Yao X, Li H, Leng SX. Inflammation and immune system alterations in frailty. [Research Support, N.I.H., Extramural]. Clin Geriatr Med. 2011 Feb; 27(1): 79-87 DOI: 10.1016/j.cger.2010.08.002
Buckley LM, Leib ES, Cartularo KS, et al. Effects of low dose corticosteroids on the bone mineral density of patients with rheumatoid arthritis. Medicial College of Virginia/Virginia Commonwealth University, Richmond 23298, USA. J Rheumatol. 1995; 22(6): 1055-9.
Khatod M, Barber T, Paxton E, et al. An analysis of the risk of hip dislocation with a contemporary total joint registry. Clin Orthop. 2006 Jun; 447: 19-23 DOI: 10.1097/01.blo.0000218752.22613.78
Stavropoulos-Kalinoglou A, Metsios GS, Koutedakis Y, et al. Redefining overweight and obesity in rheumatoid arthritis patients. Ann Rheum Dis. 2007 Oct; 66(10): 1316-21 DOI: 10.1136/ard.2006.060319
Conroy JL, Whitehouse SL, Graves SE, et al. Risk factors for revision for early dislocation in total hip arthroplasty. J Arthroplasty. 2008 Sep; 23(6): 867-72 DOI: 10.1016/j.arth.2007.07.009
Singh JA, Furst DE, Bharat A, et al. 2012 update of the 2008 American College of Rheumatology recommendations for the use of disease-modifying antirheumatic drugs and biologic agents in the treatment of rheumatoid arthritis. . Arthritis Care Res (Hoboken). 2012 May; 64(5): 625-39.
Еще