Methodological aspects in forecasting innovation development of dairy cattle breeding in the region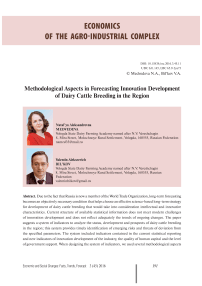 Due to the fact that Russia is now a member of the World Trade Organization, long-term forecasting becomes an objectively necessary condition that helps choose an effective science-based long-term strategy for development of dairy cattle breeding that would take into consideration intellectual and innovative characteristics. Current structure of available statistical information does not meet modern challenges of innovation development and does not reflect adequately the trends of ongoing changes. The paper suggests a system of indicators to analyze the status, development and prospects of dairy cattle breeding in the region; this system provides timely identification of emerging risks and threats of deviation from the specified parameters. The system included indicators contained in the current statistical reporting and new indicators of innovation development of the industry, the quality of human capital and the level of government support. When designing the system of indicators, we used several methodological aspects of the Oslo Manual, which the Federal State Statistics Service considers to be an official methodological document concerning the collection of information about innovation activities...
Еще
Forecasting, dairy cattle breeding, region, system of indicators, innovative development, information base
Короткий адрес: https://sciup.org/147223836
IDR: 147223836   |   DOI: 10.15838/esc.2016.3.45.11
Список литературы
Methodological aspects in forecasting innovation development of dairy cattle breeding in the region
Regiony Rossii. Sotsial'no-ekonomicheskie pokazateli. 2014: stat. sb. . Rosstat . Moscow, 2014. 996 p. .
Statisticheskii ezhegodnik Vologodskoi oblasti 2014: stat. sb. . Vologdastat . Vologda, 2015. 378 p. .
Baryshnikov N.G., Samygin D.Yu. Stsenarii razvitiya sel'skokhozyaistvennogo biznesa v Penzenskoi oblasti: prognozirovanie i otsenka riskov . Problemy prognozirovaniya , 2015, no. 1, pp. 84-89. .
Ganieva I.A. Teoreticheskie i metodologicheskie aspekty prognozirovaniya sel'skokhozyaistvennogo proizvodstva v usloviyakh tsiklicheskikh kolebanii . Vestnik Kemerovskogo gosudarstvennogo sel'skokhozyaistvennogo instituta , 2014, no. 5, pp. 204-216. .
Valdaitsev S.V. Ekonomicheskoe obosnovanie tempov nauchno-tekhnicheskogo progressa . Leningrad: Izdatel'stvo LGU im. A.A. Zhdanova, 1984. 176 p. .
Demchuk M.I., Yurkevich A.T. Sistemnaya metodologiya innovatsionnoi deyatel'nosti . Minsk: RIVSh, 2007. 289 p. .
Dynkin A.A. Mirovoi krizis -impul's dlya razvitiya innovatsii . Problemy teorii i praktiki upravleniya , 2009, no. 4, pp. 8-15. .
Kondratiev N.D., Yakovets Yu., Abalkin L. Bol'shie tsikly kon"yunktury i teoriya predvideniya . Moscow: Ekonomika, 2002. 764 p. .
Kostyaev A.I. Politika regional'nogo razvitiya APK s uchetom uslovii chlenstva Rossii v VTO: materialy Mezhdunarodnoi nauchno-prakticheskoi konferentsii "Aktual'nye voprosy ekonomiki i upravleniya APK" . Ryazan, 2013. Pp. 7-11.
Marx K., Engels F. Kapital. Sochineniya . 2nd edition. Moscow: Izdatel'stvo politicheskoi literatury, 1955-1974. Vol. 25. Part 1. Pp. 94-95. .
Medvedeva N.A. Metodologiya stsenarnogo prognozirovaniya razvitiya ekonomicheskikh sistem Vologda-Molochnoe: ITs VGMKhA, 2015. 200 p. .
Nabokov V.I., Lyamina T.M., Gorbunova O.S. Innovatsionnaya deyatel'nost' organizatsii zhivotnovodstva regiona i chelovecheskii kapital . Agrarnyi vestnik Urala , 2015, vol. 132, no. 2, pp. 91-93. .
Orlov V.I. Traktat o vdokhnovenii, rozhdayushchem velikie izobreteniya . Moscow: Znanie, 1980. 336 p. .
Sandu I.S. Ekonomicheskie aspekty realizatsii innovatsionnykh proektov v agropromyshlennom komplekse. Prikladnye ekonomicheskie issledovaniya , 2015, no. 1, pp. 43-46. .
Uskova T.V., Selimenkov R.Yu., Anishchenko A.N. Monitoring funktsionirovaniya sel'skogo khozyaistva Vologodskoi oblasti: zaklyuchitel'nyi otchet o NIR . Vologda: ISERT RAN, 2012. 70 p. .
Еще