A review of the achievements of nanotechnology. Рубрика в журнале
- Nanotechnologies in Construction: A Scientific Internet-Journal
Публикации в рубрике (1):
A review of the achievements of nanotechnology
все рубрики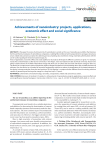 Achievements of nanoindustry: projects, applications, economic effect and social significance
Статья научная
In the paper the review of achievements of nanoindustry is carried out: the use of nanosilica as an additive that improves the fire and thermal resistance of cementitious composites; a welding filler reinforced with nanoparticles for aerospace structures; smart, mobile and autonomous station for collecting and accumulating solar and electric energy; materials authentication with the use of nuclear quadrupole resonance spectroscopy, etc. Areas of application, economic effect and social significance of projects developed in different countries are given. For example, researchers and developers at Ben-Gurion University in the Negev, Israel and Ulyanovsk state technical University, Russia have jointly created a device in the field of alternative energy that allows you to collect and store solar and electric energy for later use. The device has a unique smart system of protection against voltage interruptions and overheating due to the controller devices and software. Also, the device has a number of innovative engineering solutions to reduce the temperature of the heated elements of the device, increase protection from dust and moisture. All this together is a unique solution different from the existing solutions capable of generating and storing solar energy for a long time (up to 10 years).
Бесплатно