Application of carbon nanotubes and nanofibers in concrete. Рубрика в журнале
- Nanotechnologies in Construction: A Scientific Internet-Journal
Публикации в рубрике (1):
Application of carbon nanotubes and nanofibers in concrete
все рубрики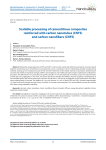 Scalable processing of cementitious composites reinforced with carbon nanotubes (CNTS) and carbon nanofibers (CNFS)
Статья научная
Utilizing the unique properties of CNTs and CNFs to enhance the mechanical and fracture properties of cement based materials and develop smart cementitious nanocomposites can be a challenge in terms of developing scalable manufacturing methods. Scaling up the manufacturing size of CNT and CNF reinforced cement based materials and produce multifunctional concrete that exhibits exceptional strength, stiffness and toughness and multifunctionality requires optimization of dispersion procedure. The effectiveness of successfully using CNTs and CNFs in concrete depends on the fiber count, the volume fraction of sand and coarse aggregates. In this work, we present the flexural strength and stiffness, fracture toughness and brittleness of nanomodified pastes and mortars reinforced at amount of 0.08 and 0.1 wt% and an investigation on the optimization of the fiber count proportioning of concrete. The addition of a very low amount, 0.1 wt%, of both CNTs and CNFs, increases approximately 1.5 times the flexural strength and the Young`s modulus of concrete nanocomposites. The nanomodified concrete also exhibits 60% higher energy absorption capability.
Бесплатно