Public-private partnership in the system of regional healthcare financing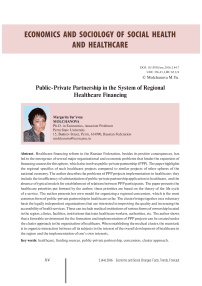 Healthcare financing reform in the Russian Federation, besides its positive consequences, has led to the emergence of several major organizational and economic problems that hinder the expansion of financing sources for this sphere, which also involves public-private partnership (PPP). The paper highlights the regional specifics of such healthcare projects compared to similar projects of other spheres of the national economy. The author describes the problems of PPP projects implementation in healthcare; they include the insufficiency of substantiation of public-private partnership application in healthcare, and the absence of typical models for establishment of relations between PPP participants. The paper presents the healthcare priorities put forward by the author; these priorities are based on the theory of the life cycle of a service. The author presents her own model for organizing a regional concession, which is the most common form of public-private partnership in healthcare so far...
Еще
Healthcare, funding sources, public-private partnership, concession, cluster approach
Короткий адрес: https://sciup.org/147223813
IDR: 147223813   |   DOI: 10.15838/esc.2016.2.44.7
Список литературы
Public-private partnership in the system of regional healthcare financing
Batievskaya V., Shabashev V. Transformatsiya podkhodov k gosudarstvennomu regulirovaniyu rossiiskogo zdravookhraneniya . Vestnik Omskogo universiteta. Seriya "Ekonomika" , 2013, no. 2, pp. 66-72.
Varnavskii V.G. Gosudarstvenno-chastnoe partnerstvo: nekotorye voprosy teorii i praktiki . Mirovaya ekonomika i mezhdunarodnye otnosheniya , 2011, no. 9, pp.41-50.
Vedenyapin I.E. Opredelenie etapov zhiznennogo tsikla uslugi kak odin iz metodologicheskikh aspektov sozdaniya sistemy menedzhmenta kachestva dlya sfery okazaniya sotsial'nykh uslug . Vestnik UGATU , 2011, vol. 15, no. 5 (45), pp. 216-221.
Volkov M. Reforma zdravookhraneniya: koshelek ili zhizn' . Available at: http://rusrand.ru/news/reforma-zdravoohraneniya-koshelek-ili-jizn (accessed June 01, 2015).
Gorchakova E.V. Osobennosti teorii gosudarstvenno-chastnogo partnerstva . Rossiiskoe predprinimatel'stvo , 2014, no. 3, pp. 25-33.
GOST 30335-95/GOST R 50646-94 "Uslugi naseleniyu. Terminy i opredeleniya" . Available at: http://skladzakonov.narod.ru/gost/Gz50646-94.htm.
Dubrovskaya Yu.V., Gubaidullina R.V. Gosudarstvenno-chastnoe partnerstvo kak faktor sbalansirovannogo regional'nogo razvitiya . Vestnik Permskogo universiteta. Ser. "Ekonomika" , 2015, no. 1, pp. 35-45.
Edinaya informatsionnaya sistema gosudarstvenno-chastnogo partnerstva v RF . Minekonomrazvitiya RF . Available at: http://pppi.ru (accessed November 01, 2015).
Zherdev R.A. Gosudarstvenno-chastnoe partnerstvo kak draiver razvitiya otechestvennogo zdravookhraneniya . Rossiiskoe predprinimatel'stvo , 2015, vol. 16, no.18, pp. 3125-3128.
Zdravookhranenie v Rossii. 2015: Stat.sb. . Rosstat . Moscow, 2015. 174 p.
Kontseptsiya razvitiya zdravookhraneniya RF do 2020 goda (pervaya versiya) . Komissiya Ministerstva zdravookhraneniya i sotsial'nogo razvitiya RF po razrabotke kontseptsii razvitiya zdravookhraneniya do 2020 goda . Moscow, 2008. 168 p.
Kuznetsov S.V. Razvitie instituta gosudarstvenno-chastnogo partnerstva v protsesse modernizatsii professional'nogo obrazovaniya . Ekonomika i upravlenie , 2014, no. 3, pp. 53-58.
Mazikova E.V. Sharapova P.O. Finansovoe obespechenie sistemy zdravookhraneniya, primenyaemoe v mirovoi praktike . Problemy i perspektivy upravleniya ekonomikoi i marketingom v organizatsii , 2011, no. 11. Available at: http://perspectives.utmn.rU/2011_11/2.5.htm (accessed June 01, 2015)
Molchanova M.Yu., Mel'nikov A.E. Finansovye osnovy reformirovaniya ambulatorno-poliklinicheskikh uchrezhdenii . Vestnik Permskogo universiteta. Ser. "Ekonomika" , 2011, no. 2, pp. 70-78.
Molchanova M.Yu., Mel'nikov A.E. Modernizatsiya otnoshenii mestnykh organov vlasti s munitsipal'nymi uchrezhdeniyami zdravookhraneniya . Vestnik Permskogo universiteta. Ser. "Politologiya" , 2008, no. 2, pp. 163-169.
O gosudarstvenno-chastnom partnerstve, munitsipal'no-chastnom partnerstve v Rossiiskoi Federatsii vnesenii izmenenii v otdel'nye zakonodatel'nye akty Rossiiskoi Federatsii: Federal'nyi zakon: prinyat 13 iyulya 2015 g. . Rossiiskaya gazeta , 2015, no. 6727, July 17.
O kontsessionnykh soglasheniyakh: Federal'nyi zakon ot 21.07.2005 № 115-FZ . Sobranie zakonodatel'stva Rossiiskoi Federatsii , 2005, no. 30, Article 3126.
Reiting regionov GChP-2014-2015. Razvitie gosudarstvenno-chastnogo partnerstva v sub"ektakh Rossiiskoi Federatsii . Available at: http://www.pppcenter.ru/assets/files/raytingREG-Block_26-03-2015_web.pdf (accessed June 01, 2015).
Reformy finansirovaniya zdravookhraneniya. Opyt stran s perekhodnoi ekonomikoi . Ed. by J. Kutzin, Ch. Cashin, M. Jakab. Copenhagen: European Observatory on Health Systems and Policies, 2011. 442 p.
Taplaskhanova E.O., Mustafaeva Z.A. Gosudarstvenno-chastnoe partnerstvo v zdravookhranenii . Rossiiskoe predprinimatel'stvo , 2012, no. 13, pp. 112-118.
Finansy, denezhnoe obrashchenie i kredit . Ed. by M.V. Romanovskii, O.V. Vrublevskaya. Moscow: Yurait-Izdat, 2009. 543 p.
Uiba V.V., Chernyshev V.M., Pushkarev O.V., Strel'chenko O.V., Klevasov A.I. Ekonomicheskie metody upravleniya v zdravookhranenii . Novosibirsk: Al'fa-Resurs, 2012. 314 p.
Ekonomicheskie osnovy zdravookhraneniya v Rossiiskoi Federatsii. Istochniki finansirovaniya zdravookhraneniya [Economic Basis of Healthcare in the Russian Federation. Healthcare Funding Sources]. Available at: http://medbe.ru/materials/obshchestvennoe-zdorove-i-zdravookhranenie/ekonomicheskie-osnovy-zdravookhraneniya-v-rossiyskoy-federatsii-istochniki-finansirovaniya-zdravookh/ (data obrashcheniya 10.10.2015).
Kotler P. Marketing Management: Analysis, Planning, Interpretation, and Control. 8th Edition, 1994.
Suire R., Vicente J. Clusters for Life or Life Cycles of Clusters: in Search of the Critical Factors of Clusters' Resilience. Entrepreneurship and Regional Development, 2014, no. 26, pp. 142-164.
Tsai B.-H., Li Y. Cluster Evolution of IC Industry from Taiwan to China. Technological Forecasting and Social Change, 2009, no. 76, pp. 1092-1104.
Еще