Rooting stimulation of "Victoria" and "Korinka russkaya" grape hardwood cuttings as influenced by potassium salt of indolyl-3-acetic acid (KIAA)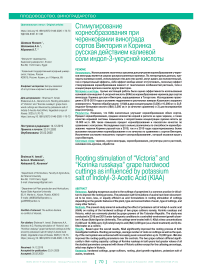 Relevance. Applying exogenous auxins to the cuttings of grapevines is a common practice in viticulture to improve the rooting process. The potassium salt formulations of auxins have been documented to be more, less, or equally efficient as acid formulations in rooting stimulation of cuttings depending on the genetic features of the plant, type and concentration of auxin, type of cuttings, and many other factors. Methods. The present study aimed at evaluating the effect of potassium salt of indolyl-3-acetic acid (KIAA) on rooting of the hardwood cuttings of two grape cultivars namely, Korinka russkaya and Victoria, which are commonly planted by grape growers of the Tatarstan Republic. The study was conducted in 2018 and 2019 under hydroponic conditions in a controlled-environment growth chamber in Kazan State Agrarian University. The cuttings were treated with 1) KIAA at two concentrations (5,000 and 10,000) ppm; 2) β-indolyl-butyric acid (IBA) 3,000 ppm (as a check treatment) and 3) distilled water as a control...
Еще
Hardwood cuttings, grape cultivars, rooting, plant growth regulators, potassium salt of auxins, treatment
Короткий адрес: https://sciup.org/140248051
IDR: 140248051   |   DOI: 10.18619/2072-9146-2020-1-70-73
Список литературы
Rooting stimulation of "Victoria" and "Korinka russkaya" grape hardwood cuttings as influenced by potassium salt of indolyl-3-acetic acid (KIAA)
Alley, C. Propagation of grapevines. California Agriculture Journal. 1980;(7):29-30.
Smith B., Waite H., Dry N. and Nitschke D. Grapevine propagation best practices, part 2. Wine and Viticulture Journal. 2012;(7):49-51.
Thimann, K.V. and Koepfli, J.B. Identity of the growth-promoting and root-forming substances of plants. Nature. 1935;(135):101-102.
Pop, T.I., Pamfil, D. and Bellini, C. Auxin control in the formation of adventitious roots. Notulae Botanicae Horti Agrobotanici Cluj-Napoca. 2011;39(1):307-316.
Pacurar, D. I., Perrone, I. and Bellini, C. Auxin is a central player in the hormone cross-talks that control adventitious rooting. Physiologia Plantarum. 2014;151(1):83-96.
Blythe E.K., Sibley J.L., Tilt K.M. and Ruter J.M. Methods of auxin application in cutting propagation: A review of 70 years of scientific discovery and commercial practice. Journal of Environmental Horticulture. 2007;25(3):166-185.
Daskalakis, I., Biniari, K., Bouza, D. and Stavrakaki, M. The effect that indole-butyric acid (IBA) and position of cane segment have on the rooting of cuttings from grapevine rootstocks and from Cabernet franc (Vitis vinifera L.) under conditions of a hydroponic culture system. Scientia Horticuturae. 2018;(227):79-84.
Dogan, A., Cneyt, U. and Kazankaya, A. Effects of Indole-Butyric Acid Doses, Different Rooting Media and Cutting Thicknesses on Rooting Ratios and Root Qualities of 41B, 5 BB and 420A American Grapevine Rootstocks. Journal of Applied Biological Sciences. 2016;10(2):8-15.
Galavi, M., Karimian, M.A. and Mousavi, S.R. Effects of Different Auxin (IBA) Concentrations and Planting-Beds on Rooting Grape Cuttings (Vitis vinifera). Annual Review & Research in Biology. 2013;3(4):517-523.
Alley, C.J., Factors Affecting The Rooting of Grape Cuttings. II. Growth Regulators. American Journal of Enology and Viticulture. 1961;(12):185-190.
Castro, P.R.C., Melotto E. and Soares, F.C. Rooting Stimulation in Muscadine Grape Cuttings. Scientia Agricola. 1996;51(3):436-440.
Kracke, H. and Cristoferi, G. Effect of IBA And NAA Treatments on the Endogenous Hormones in Grapevine Rootstock Hardwood Cuttings. Acta Horticulturae. 1983;(137):95-102.
Bielenin, M. Rooting and Gas Exchange of Conifer Cuttings Treated with Indolebutyric Acid. Journal of Fruit and Ornamental Plant Research. 2003;(11):99-105.
Van Bragt, J., Van Gelder, H. and Pierik, R.L.M. Rooting of Shoot Cuttings of Ornamental Shrubs after Immersion in Auxin-Containing Solutions. Scientia Horticulturae. 1976;4(1):91-94.
Blythe, E.K., Sibley, J.L., Tilt, K.M. and John, M.R. "Rooting of Rose Cuttings in Response to Foliar Applications of Auxin and Surfactant.
Sims, B.J., Rooting Evaluation of Kiwifruit (Actinidia chinensis) and Effects of Anaerobiosis on Bud Break. Thesis, Alabama, U.S.A. 2011. 43 p.
Keeley, K., Preece, J.E., Taylor, B.H. and Dami, I.E. Effects of High Auxin Concentrations, Cold Storage, and Cane Position on Improved Rooting of Vitis Aestivalis Michx. Norton Cuttings. American Journal of Enology and Viticulture. 2004;55(3):265-268.
Keeley, K., Preece, J.E. and Taylor, B.H. Increased Rooting of 'Norton' Grape Cuttings Using Auxins and Gibberellin Biosynthesis Inhibitors. HortScience. 2003;38(2):281-283.
Amtmann, A. and Armengaud, P., Effects of N, P, K and S on Metabolism: New Knowledge Gained from Multi-Level Analysis. Current Opinion in Plant Biology. 2009;(12):275-283.
Henry, P.H., Blazich, F.A. and Hinesley, L.E. Nitrogen Nutrition of Containerized Eastern Redcedar. II. Influence of Stock Plant Fertility on Adventitious Rooting of Stem Cuttings. Journal of the American Society for Horticulture Science. 1992;117(4):568-570.
Zhi-yong, Z., Qing-lian, W., Zhao-hu, L., et al., Effects of Potassium Deficiency on Root Growth of Cotton Seedlings and Its Physiological Mechanisms. Acta Agronomica Sinica. 2009;35(4):718-723.
Zhao, Z.R., Li, G.R. and Huang, G.Q. Promotive Effect of Potassium on Adventitious Root Formation in Some Plants. Journal of Plant Science. 1991;(79):47-50.
Vicente-Agullo, F., Rigas, S., Desbrosses, G., et al. Potassium Carrier TRH1 Is Required for Auxin Transport in Arabidopsis Roots. The Plant Journal. 2004;(40):523-535.
Radchivsky, P.P. "Rooting Ability of 5-eyed Cuttings of Resistant Grape Varieties When Rooted in Water. Educational Journal of Kuban State Agrarian University. 2014;(95):1-17. (in Russian)
Sabir, F.K. and Sabir, A. Effects of Different Storage Conditions on Rooting and Shooting Performance of Grapevine (Vitis vinifera L.) Cuttings in Hydroponic Culture System. International Journal of Sustainable Agricultural Research. 2018;5(3):46-53.
Radchivsky P.P., Kolko EA, Ocibova D.C, Ocibova М.С. The Effect of Heteroauxin on the Regenerative Ability of Cuttings of Sustainable Table Grape Varieties Augustine and Moldova. In Innovative Technologies and Trends in Development of Modern Viticulture and Wine-making, Nikolsky, M.A., Ed., Anapa: Conf. Proceedings, 2012. 114-118 p. (in Russian).
Bartolini, G., Pestelli, P., Toponi, M.A. and Di Monte, G. Rooting and Carbohydrate Availability in Vitis 140 Ruggeri Stem Cuttings. Vitis. 1996;35(1):11-14.
Satisha, J. and Adsule, P.G. Rooting Behavior of Grape Rootstocks in Relation to IBA Concentration and Biochemical Constituents of Mother Vines. Acta Horticulturae. 2008;785(3):121-126.
Еще