The state of the tourism industry during the economic crisis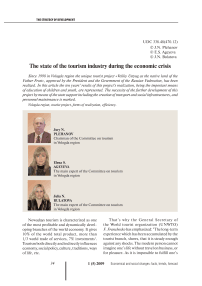 Since 1998 in Vologda region the unique tourist project «Veliky Ustyug as the native land of the Father Frost», approved by the President and the Government of the Russian Federation, has been realized. In this article the ten years' results of this project's realization, being the important means of education of children and youth, are represented. The necessity of the further development of this project by means of the state support including the creation of transport and social infrastructures, and personnel maintenance is marked.
Vologda region, tourist project, forms of realization, efficiency
Короткий адрес: https://sciup.org/147223118
IDR: 147223118
Список литературы
The state of the tourism industry during the economic crisis
Gulyayev, V.G. Tourism: economy, management, steady development: the textbook/V.G. Gulyayev; The Russian International Academy of Tourism. -M.: The Soviet Sports, 2008. -280 p.
The Site of the World Tourist Organization . -Access mode: http://www.unwto. org.
The President of the Russian Federation's List of Assignments on the results of the session with the heads of the cities making up "The Golden Ring", 01.08.2008 at Uglich (Pr-1630 from 11.08.2008).
The List of the basic statements from the Concept of the socio-economic development's strategy in Vologda Region for the long-term prospect (the decision of the Regional Government №380 from 16.04.2004).