Влияние внекорневого обогащения капусты цветной селенатом натрия на урожайность, пищевую ценность и антиоксидантный статус растений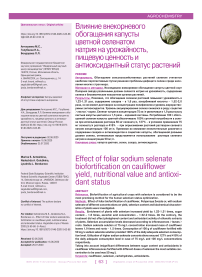 Актуальность. Обогащение сельскохозяйственных растений селеном считается наиболее перспективным путем решения проблемы дефицита селена среди населения многих стран мира. Материал и методика. Исследовано внекорневое обогащение капусты цветной сорт Полярная звезда различными дозами селената натрия на урожайность, содержание селена и биохимические показатели органов растений. Результаты. Показано, что обогащение селеном растений повышает урожайность в 1,23-1,31 раз, содержание сахаров - в 1,6 раз, аскорбиновой кислоты - 1,52-2,0 раза, но не влияет достоверно на концентрацию полифенолов и уровень жирорастворимых антиоксидантов. Уровень аккумулирования селена снижался в ряду: соцветия > листья > корни. Селенат натрия в концентрации 75 мг/л увеличивал в 1,9 раза массу листьев капусты цветной и в 1,5 раза - корневой системы. Потребление 100 г обогащенной селеном капусты цветной обеспечивало 100% суточной потребности в селене при использовании раствора 50 мг селената/л, 127% - в условиях применения 75 мг селената/л раствора и 418% - при опрыскивании растений раствором селената натрия концентрации 100 мг/л. Принимая во внимание незначительные различия в содержании сахаров и антиоксидантов в соцветиях капусты, обогащенной разными дозами селена, оптимальным представляется использование раствора селената натрия в концентрации 50 мг/л.
Еще
Капуста цветная, селен, сахара, антиоксиданты
Короткий адрес: https://sciup.org/140250289
IDR: 140250289   |   DOI: 10.18619/2072-9146-2020-3-63-68
Список литературы
Влияние внекорневого обогащения капусты цветной селенатом натрия на урожайность, пищевую ценность и антиоксидантный статус растений
Голубкина, Н.А., Кекина, Е.Г., Молчанова, А.В., Антошкина, М.С., Надежкин, С.М., Солдатенко, А.В. Антиоксиданты растений и методы их определения. 2020.
Кидин В.В. Практикум по агрохимии. М., Колос, 2008.
Adhikari P. Biofortification of selenium in broccoli (Brassica oleracea L. var. italic) and onion (Allium cepa L.). Thesis. 2012, Norwegian University of Life Sciences.
AOAC. The Official Methods of Analysis of the Association of Official Analytical; 2012.
Avila F.W., Yang Y., Faquin V., Ramos S.J., Guilherme L.R.G., Thannhauser T.W., Li L., Impact of selenium supply on Se-methylselenocysteine and glucosinolate accumulation in selenium-biofortified Brassica sprouts. Food Chem. 2014;(165):578-586.
Bansal A., Sharma S., Dhillon S.K., Dhillon K.S. Selenium Accumulation and Biochemical Composition of Brassica Grains Grown in Selenate- or Selenite-Treated Alkaline Sandy Loam Soil. Commun. Soil Sci, Plan. 2012;43(9):1316-1331;
DOI: 10.1080/00103624.2012.666306
Bradfield C.A., Chang Y., Bjeldanes L.F. Effects of commonly consumed vegetables on hepatic xenobiotic-metabolizing enzymes in the mouse. Food Chem. Toxicol. 1985;23(10):899-904.
Broadley M., Brown P., Cakmak I., Ma J.F., Rengel Z., Zhao F. Function of nutrients: micronutrients. In Marschner's Mineral Nutrition of Higher Plants. Academic Press, London. 2012. P.249-269.
Djanaguiraman M., Prasad P.V., Seppänen M. Selenium protects sorghum leaves from oxidative damage under high temperature stress by enhancing antioxidant defense system. Plant Physiol. Biochem. 2010;(48):999-1007.
DOI: 10.1016/j.plaphy.2010.09.009
El-Ramady H.R., Alla N.A., Fari M., Domokos-Szabolcsy Ё. Selenium enriched vegetables as biofortification alternative for alleviating micronutrient malnutrition. Int.J.Hort.Sci. 2014;20(1-2):75 -81. 10.31421 /IJHS/20/1 -2/1121.
DOI: 10.31421/IJHS/20/1-2/1121
Fageria N.K., Moraes M.F., Ferreira E.P.B., Knupp A.M., Biofortification of trace elements in food crops for human health. Commun. Soil Sci, Plan. 2012;(43):561-570.
FAOSTAT, "Database", Agricultural Data, 2004, http://www.fao.org/home/en/.
Feng R., Wei C., Tu S. The roles of selenium in protecting plants against abiotic stresses. Environ. Exp. Bot. 2013;(87):58-68.
DOI: 10.1016/j.envexpbot.2012.09.002
Fouad A. Ahmed and Rehab F. M. Ali Bioactive Compounds and Antioxidant Activity of Fresh and Processed White Cauliflower. BioMed. Res. Int. 2013;2013:Article ID 367819;
DOI: 10.1155/2013/367819
Hartikainen H., Xue T. The promotive effect of selenium on plant growth as triggered by ultraviolet irradiation. J. Environ. Qual. 1999;(28):1372-1375.
Hartikainen H., Xue T., Piironen V. Selenium as an anti-oxidant and pro-oxidant in ryegrass. Plant Soil. 2000;(25):193-200.
DOI: 10.1023/A:1026512921026
Hajiboland R., Rahmat S., Aliasgharzad N., Hartikainen H. Selenium-induced enhancement in carbohydrate metabolism in nodulated alfalfa (Medicago sativa L.) as related to the glutathione redox state. J. Soil Sci. Plant Nutr. 2015;61(4):676-687. 10.1080/ 00380768.2015.1032181.
DOI: 10.1080/00380768.2015.1032181
Heimler D., Vignolini P., Dini M.G., Vincieri F.F., Romani A.,Antiradical activity and polyphenol composition of local Brassicaceae edible varieties. Food Chem. 2006;99(3):464-469.
Jahangir M., Kim H.K., Choi Y.H., Verpoorte R. Health-affecting compounds in Brassicaceae. Compr. Rev. Food Sci. F. 2009;8(2):31-43.
Kapolna, E., Laursen K.H., Husted S., Larsen E.H. Bio-fortification and isotopic labelling of Se metabolites in onions and carrots following foliar application of Se and 77Se. Food Chem. 2012;(133):650-657.
Kannan V.R., Bastas K.K. Sustainable Approaches to Controlling Plant Pathogenic Bacteria. CRC press. 2015. 421 p.
Kornas A., Filek M., Sieprawska A., Bednarska-Kozakiewicz E., Gawronska K., Miszalski Z. Foliar application of selenium for protection against the first stages of mycotoxin infection of crop plant leaves. J. Sci. Food Agric. 2019;99(1):482-485.
DOI: 10.1002/jsfa.9145
Oancea A., Gaspar A., Seciu A.-M., Stefan L.M., Craciunescu O., Georgescu F., Lacatusu R. Development of a new technology for protective biofortification with selenium of Brassica crops. AgroLife Scientific J. 2015;4(2):80-85.
Owen R.F., Food Chemistry. Marcel Dekkar. New York, NY, USA, 3rd edition, 1996.
Pandey K.B., Rizvi S.I. Plant polyphenols as dietary antioxidants in human health and disease. Oxid.Med.Cell.Longev. 2009;2(5):270-278.
Park H.S., Han M.H., Kim G.-Y., Moon S.-K., Kim W.-J., Hwang H.J., Park K.Y., Choi Y.H. Sulforaphane induces reactive species-mediated mitotic arrest and subsequent apoptosis in human bladder cancer 5637 cells. Food Chem.Toxicol. 2014;(64):157-165.
Raiola A, Errico A., Petruk G., Monti D.M, Barone A., Rigano M.M. Bioactive Compounds in Brassicaceae Vegetables with a Role in the Prevention of Chronic Diseases. Molecules. 2018;(23):15;
DOI: 10.3390/mole-cules23010015
Sajedi N., Madani H., Naderi A. Effect of microelements and selenium on superoxide dismutase enzyme, malondialdehyde activity and grain yield maize (Zea mays L.) under water deficit stress. Notulae Botanicae Horti Agrobotanici Cluj-Napoca. 2011;(39):153-159.
Samec D., Pavlovic I., Salopek-Sondi B. White cabbage (Brassica oleracea var. capitata f. alba): botanical, phytochemical and pharmacological review. Phytochem. Rev. 2016;(16):117-135.
DOI: 10.1007/s11101-016-9454-4
Thiruvengadam M., Chung I.-M. Selenium, putrescine, and cadmium influence health-promoting phytochemicals and molecular-level effects on turnip (Brassica rapa ssp. rapa). Food Chem. 2015;(173):1185-193.
DOI: 10.1016/j.foodchem.2014.10.012
Tortorella S.M., Royce S.G., Licciardi P.V., Karagiannis T.C. Dietary sulforaphane in cancer chemoprevention: the role of epigenetic regulation and HDAC inhibition. Antioxid Redox Sign. 2015;(22):1382-1424.
Turakainen M. Selenium and its effects on growth, yield and tuber quality in potatoes. Thesis. 2007. Helsinki.
Vallejo F., Tomas-Barberan F.AGarc'ia-Viguera., C. Phenolic compound contents in edible parts of broccoli inflorescences after domestic cooking. J. Sci.Food Agric. 2003;83(14):1511-1516.
Utoiu E, Oancea A., Gaspar A., Seciu A.-M., Srefan L.M., Coroiu V., Craciunescu O., Badiu C.D., Oancea F. Selenium biofortification treatment of cauliflower enhances their content in chemopreventive compounds and in vitro antitumoral activity. Sci. Bul., Series F. Biotechnologies. 2017;(XXI):33-40.
Wang C.Q., Water-stress mitigation by selenium in Trifolium repens L. J. Soil Sci. Plant Nutr. 2011;(174):276-282.
White P.J., Broadley M.R. Biofortification of crops with seven mineral elements often lacking in human diets - iron, zinc, copper, calcium, magnesium, selenium and iodine. New Phytol. 2009;(182):49-84.
Xue T., Hartikainen H., Piironen V., Antioxidative and growth-promoting effect of selenium on senescing lettuce. Plant Soil. 2001;(237):55-61.
Zhang Y., Talalay P. Anticarcinogenic activities of organic isothiocyanates: chemistry and mechanisms. Cancer Res. 1994;54(7):1976s-1981s.
Еще