A Case Study on Adult and Workplace Learning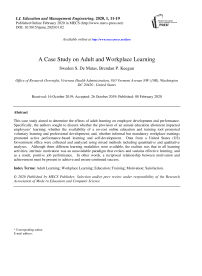 This case study aimed to determine the effects of adult learning on employee development and performance. Specifically, the authors sought to discern whether the provision of an annual education allotment impacted employees' learning; whether the availability of a no-cost online education and training tool promoted voluntary learning and professional development; and, whether informal but mandatory workplace trainings promoted active performance-based learning and self-development. Data from a United States (US) Government office were collected and analyzed using mixed methods including quantitative and qualitative analyses. Although three different learning modalities were available, the realism was that in all learning activities, intrinsic motivation was an unavoidable paradigm that evokes and sustains effective learning, and as a result, positive job performance. In other words, a reciprocal relationship between motivation and achievement must be present to achieve and ensure continued success.
Еще
Adult Learning, Workplace Learning, Education, Training, Motivation, Satisfaction
Короткий адрес: https://sciup.org/15017025
IDR: 15017025   |   DOI: 10.5815/ijeme.2020.01.02
Список литературы
A Case Study on Adult and Workplace Learning
Ormrod, J. (2012). Human learning (6th ed.). Boston: Pearson
Merriam, S. and Brockett, R. (2007). The Profession and Practice of Adult Education: An Introduction. Jossey-Bass.
Spencer, Bruce (2006). The purposes of adult education: a short introduction (2nd ed.). Toronto: Thompson Educational Publishing.
Cacciattolo, K. (2015). Defining workplace learning. European Scientific Journal, May 2015.
Crouse, P., Doyle, W., and Young, J. (2011). Workplace learning strategies, barriers, facilitators and outcomes: a qualitative study among human resource management practitioners. Human Resource Development International, 14(1).
See Crouse, P., et al (2011).
Kunga, K., and Machtmes, K. (2009). Lifelong learning: Looking at triggers for adult learning. The International Journal of Learning, 16(7), 501-511.
Bariso, E. (2008). Factors affecting participation in adult education: a case study of participation in Hackney and Waltham Forest, London. Studies in the Education of Adults. 40. 110-124.
Chang, D. (2012). Adults Engaged in Lifelong Learning: Analysis by Gender and Socioeconomic Status. Australian Journal of Adult Learning, 52. 310-336.
Chrisholm, L., Larson, A. and Mossoux, A. (2004). Lifelong learning: Citizen' views in close up: Findings from a dedicated Eurobarometer survey, CEDEFOP. Office for Official Publications of the European Communities Luxembourg.
Bohonos, J. (2014). Understanding Career Context as a Key to Recruiting, Retaining and Best Serving Adult Students. Journal of Adult Learning.
Kim, K., Hagedorn, M., Williamson, J., and Chapman, C., (2004). Participation in adult education and lifelong learning: 2000-01. National Center for Education Statistics.
See Ormond, J. (2012); Merriam, S. et al (2007; Spencer, B. (2006); and, Cattiattolo, K. (2015).
Olusegun, A. (2015). Motivating Factors for Adult Learners in Higher Education. International Journal of Higher Education, 4(1).
Mundo, J. (nd). Adult education has long-term impact on the economy and society at large. European Association for the Education of Adults (EAEA). Mundo-J. Retrieved March 15, 2019.
Schmidt, S. W. (2010). The Relationship between Job Training and Job Satisfaction: A Review of Literature. International Journal of Adult Vocational Education and Technology (IJAVET), 1(2), 19-28.
https://www.opm.gov/policy-data-oversight/pay-leave/salaries-wages/2019/general-schedule/. 18 Average of $3000.00 annually.
https://www.valu.va.gov/Home/TMSResources
Reason, P. and Bradbury, H. (2008) (eds). The Sage Handbook of Action Research: Participative Inquiry and Practice. Sage, CA
https://atlasti.com/
Kim, Jim Yong. (2018). "The Human Capital Gap: Getting Governments to Invest in People." Foreign Affairs (July/August).
World Bank (2019). World Development Report 2019: The Changing Nature of Work. Washington, DC: World Bank.
Rotgans, J. and Schmidt, H. (2012). The Intricate Relationship Between Motivation and Achievement: Examine the Mediating Role of Self-Regulated Learning and Achievement-Related Classroom Behaviors. International Journal of Teaching and Learning in Higher Education, 24(2).
Еще