A Contrast Between Systematic and Automated Sentiment Analysis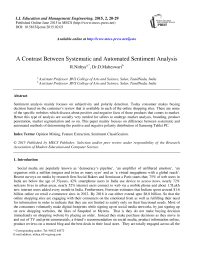 Sentiment analysis mainly focuses on subjectivity and polarity detection. Today consumer makes buying decision based on the customer's review that is available in each of the online shopping sites. There are some of the specific websites which discuss about positive and negative facts of those products that comes to market. Hence this type of analysis are socially very needed for sellers to undergo market analysis, branding, product penetration, market segmentation and so on. This paper mainly focuses on difference between systematic and automated methods of determining the positive and negative polarity distribution of Samsung Tablet PC.
Еще
Opinion Mining, Feature Extraction, Sentiment Classification
Короткий адрес: https://sciup.org/15013837
IDR: 15013837
Список литературы
A Contrast Between Systematic and Automated Sentiment Analysis
Dipali V.Talele, Sonal Patil, Extracting and Analyzing Sentiments of the Crowd Using Naive Bayes Classification, Asian Journal of Computer Science and Information Technology, ISSN 2249 – 5126,2013.
V.K. Singh, R. Piryani, A. Uddin, P. Waila, Marisha, Sentiment Analysis of Textual Reviews,Evaluating Machine Learning, Unsupervised and SentiWordNet Approaches, 5th International Conference on Knowledge and Smart Technology (KST), 2013.
Lizhen Liu, Zhixin Lv, Hanshi Wang, Opinion Mining Based on Feature-Level, 5th International Congress on Image and Signal Processing (CISP 2012), 2012.
P. Szabo and K. Machova, Various Approaches to the Opinion Classification Problems Solving, 10th IEEE Jubilee International Symposium on Applied Machine Intelligence and Informatics • January 26-28, 2012.
Hsiang Hui Lek and Danny C.C.Poo, Sentix: An Aspect and Domain Sensitive Sentiment Lexicon, 24th Internation Conference on Tools with Aritificial Intelligence, 2012.
Khairullah khan and Baharum B.Baharudin, Analysis of Syntactic Patterns for Identification of Features from Unstructured Reviews, 4th International Conference on Intelligent and Advanced Systems, 2012.
Thelwall, M., Buckley, K., & Paltoglou, G, Sentiment strength detection for the social Web, preprint of an article published in the Journal of the American Society for Information Science and Technology, 63(1), 163-173, © copyright 2011 John Wiley & Sons, Inc.
Hai-Bing Ma, Yi-Bing Geng, Jun-Rui Qiu, Analysis Of Three Methods For Web-Based Opinion Mining, Proceedings of the 2011 International Conference on Machine Learning and Cybernetics, Guilin, 10-13 July, 2011.
Jingbo Zhu, Member, IEEE, Huizhen Wang, Muhua Zhu, Benjamin K. Tsou, Member, IEEE, and Matthew Ma, Senior Member, IEEE, Aspect-Based Opinion Pollingfrom Customer Reviews, IEEE Transactions On Affective Computing, Vol.2, No. 1, January –March 2011.
Evgeny A. Stepanov, Giuseppe Riccardi, Detecting General Opinions from Customer Surveys, 11th IEEE International Conference on Data Mining Workshops, 2011.
Shen Jie, Fan Xin, Shen Wen, Ding Quan-Xun, BBS Sentiment Classification Based on Word Polarity, International Conference on Computer Engineering and Technology, 2009.
Khairullah Khan, Baharum B.Baharudin, Aurangzeb Khan, Fazal-e-Malik, Mining Opinion from Text Documents: A Survey, 23rd IEEE International Conference on Digital Ecosystems and Technology, 2009.
Alekh Agarwal and Pushpak Bhattacharyya, Augmenting WordNet with Polarity Information on Adjectives, Petr Sojka, Key-Sun Choi, Christiane Fellbaum, Piek Vossen (Eds.): GWC 2006, Proceedings, pp. 3–8. c Masaryk University, 2005.
Pang,L.Lee and S.Vaithyanathan,Thumbs up?: sentiment classification using machine Learning techniques. In EMNLP' 02: Proceedings of the ACL-02 conference on Empirical methods in natural language processing. Association for Computational Linguistics, Morristown, NJ, USA, 79-86,2002.
M. Hu and B.Liu,Mining and summarizing customer reviews. In KDD' 04: Proceedings of the Tenth ACM SIGKDD international conference on Knowledge discovery and data mining. ACM, New York, NY, USA,168-177, 2004.
M. Hu and B. Liu,Mining opinion features in customer reviews. In AAAI' 04: Proceedings of the 19th national conference on Artificial Intelligence. AAAI Press,2004.
Popescu, Ana-Maria and Oren, Etzioni, "Extracting product features and opinions from reviews," In Proceedings of EMNLP, 2005.
Еще