Архитектурные формы и символы религиозно-политического феномена культа императора по материалам археологических исследований в Малой Азии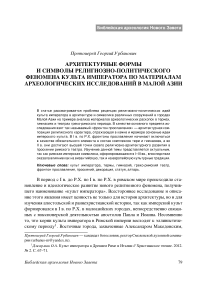 В статье рассматривается проблема рецепции религиозно-политических идей культа императора в архитектуре и символике различных сооружений в городах Малой Азии на примере анализа материалов археологических раскопок в термах, гимнасиях и театрах греко-римского периода. В качестве основного предмета исследования взят так называемый «фронтон прославления» - архитектурная композиция религиозного характера, отражающая в камне и мраморе основные идеи имперского культа. В I в. по Р.Х. фронтоны прославления начинают включаться в качестве обязательного элемента в состав комплексов терм и гимнасиев, а во II в. они достигают высшей точки своего религиозно-архитектурного развития в проскении римского театра. Изучение данной темы представляется актуальным, так как римская имперская символика, сформировавшаяся в I-III вв., впоследствии оказала влияние как на византийскую, так и на европейскую культурные традиции.
Еще
Культ императора, термы, гимнасий, греко-римский театр, фронтон прославления, проскений, декорация, статуя, алтарь
Короткий адрес: https://sciup.org/140190066
IDR: 140190066
Список литературы
Архитектурные формы и символы религиозно-политического феномена культа императора по материалам археологических исследований в Малой Азии
Брунов Н.И. Очерки по истории архитектуры. В 2 т. Том 2. Архитектура Греции. Архитектура Рима. Византийская архитектура. М., 2002.
Витрувий. Десять книг об архитектуре. М., 2009.
Всеобщая история архитектуры. В 12 томах. Том 2. Баранов Н.В., Бунин А.В., Большаков В.В. и др. Архитектура античного мира (Греция и Рим). М., 1972.
Гуськов Е.А. Фигура императора в культуре ранней римской империи: сакрально-религиозный аспект//Автореферат диссертации на соискание ученой степени кандидата исторических наук. Саратов, 2013.
Джарман О.А. Культ императора в Древнем Риме и Италии//Христианское чтение. 2012. № 2. С. 56-118.
Климов О.Ю. Пергамское царство: проблемы политической истории и государственного устройства. СПб., 2010.
Лазарев В.Н. История византийской живописи. М.: «Искусство», 1986.
Плутарх. Сравнительные жизнеописания. В 2 т. М.: «Наука», 1993.
Публий Корнелий Тацит. Анналы. М.: «Ладомир», 2003.
Ранович А. Восточные провинции Римской империи в I-III вв. М., 1949.
Токарев А.Н. Augustus и Σεβαστός: о семантике терминов.//Древности. Харьковский историко-археологический ежегодник. Харьков, 2005. С. 165-177.
Урбанович Г., прот. Семь Церквей Апокалипсиса. Церковно-археологический очерк. Смоленск, 2011.
Шнайдер Е.Е. Ефес и Пергам в прошлом и настоящем (с реконструкциями). Рим, 2008.
Alfoldi A. Die Ausgestaltung des monarchischen Zeremoniells am romischen Kaiserhofe//Romische Mitteilungen. 1934. Vol. 49. Р. 1-171.
Bean G.E. Side Kitabeleri [Inscriptions of Side]. Ankara, Türk Tarih Kurumu Yayinlarindan, V. Seri. 1965. Эл. вариант: Side Kitabeleri 112 // Searchable Greek Inscriptions. URL://epigraphy.packhum.org/inscriptions/main ?url=oi\%3Fikey\%3D276459\%26bookid\%3D646\%26region\%3D8 (дата обращения: 04.12.2013).
Bieber M. A. History of the Greek and Roman Theater. Princeton, 1961 (repr. of 1939 ed.).
Boehringer E., Kraus E. Das Temenos für den Herrscherkult (Altertümer von Pergamon, IX). Berlin, 1937.
Bowersock G. Augustus and the Greek World. Oxford, 1976.
Bowersock G. Greek Intellectuals and the Imperial Cult. Le culte des souverains dans L'Empire Romaine (Foundation Hardt, XIX). Geneva, 1972.
Bowersock G.W. Augustus and the Greek World. Oxford, 1965.
Bowie E.L. The Temple of Hadrian in Ephesus//Zeitschrift fur Papyrologie und Epigrafik. 1971. Vol. 8. Р. 137-141.
Clarke J.R. Art in the Lives of Ordinary Romans: Visual Representation and Non-Elite Viewers in Italy, 100 b.c.-a.d. 315. Berkeley; Los Angeles: University of California Press, 2003.
Claud D. Die Byzantinische Stadt im 6. Jahrhundert. München, 1969.
Cousin G., Deschamps G., Chapot V. Inscriptions de Magnesie du Meandre//Bulletin de correspondence hellenique. 1888. Vol. 12. Р. 204-233.
Deckers J.G. Die Wandmalerei im Kaiserkultraum von Luxor//Jahrbuch des deutschen Archäologischen Instituts. 1979. Vol. 94. P. 600-652.
Delorme J. Gymnasion. Paris, 1960.
Drew-Bear T. Representations of Temples on Greek Imperial Coinage//Museum Notes. 1974. Vol. 19. Р. 27-63.
Dyggve E. Ravennatum Palatium Sacrum. La basilica ipetrale per cerimonie. Studi sull'architettura dei palazzi della tarda antichità//Det Kgl. Danske Videnskabernes Selskab. Archaeologisk-kunsthistoriske Meddelelser. København. 1941. Vol. 3. № 2. F. 3-55.
Edip O.M. Sculptures of the Museum in Antalia. Ankara, 2008.
Edmund T. Monumentality and the Roman Empire. Oxford, 2007.
Ekrem A. Ancient Civilization and Ruins of Turkey. Istanbul, 2007.
Ferguson J. The Religions of the Roman Empire. Ithaca, 1970.
Fishwick D. Imperial Cult in the Latin West. Leiden, 1987.
Friend A.M. Jr. The Portraits of the Evangelists in Greek and Latin Manuscripts//Art Studies. Camb. (Mass.), 1927. Vol. 5. P. 115-147.
Friesen S.J. Twice Neokoros: Ephesus, Asia and the Cult of the Flavian Imperial Family. Leiden, 1993.
Gerkan A., Krischen F. Thermen und Palaestren. Berlin, 1928.
Hanfmann G.M.A., Waldbaum J.C.A. Survey of Sardis and the Major Monuments Outside the City Walls//Archaeological Exploration of Sardis. Report 1, Cambridge, 1975. Р. 53-87.
Hanfmann G.M.A., Yegül F.K., Crawford J.S. The Roman and Late Antique Period. The Bath -Gimnasium Complex//Sardis from Prehistoric to Roman Times. Results of the Archaeological Exploration of Sardis 1958-1975. Harvard, 1983. P. 139-167.
Hanson J.A. Roman Theater-Temples. Princeton, 1959.
Harland P.A. Imperial Cults within Local Cultural Life: Associations in Roman Asia//Ancient History Bulletin. 2003. Vol. 17. P. 87-105.
Heаding M. Die Arbeiten zu Pergamon 1904-1905: Die Inschriften//Deutsches Archaeologisches Institut. Athenische Abteilung. 1907. Vol. 32. № 29. Р. 161-472.
Hoddinott R. F. Early Byzantine Churches in Macedonia and Southern Serbia. London, 1963.
Jones A.H.M. The Later Roman Empire. Norman. Okla, 1964.
Kalavrezou-Maxeiner I. The Imperial Chamber at Luxor//Dumbarton Oaks Papers. 1975. Vol. 29. P. 227-251.
Karayannopoulos I. Konstantin der Grosse und der Kaiserkult//Römischer Kaiserkult. Ed. Wlosok A. Darmstadt, 1978. Р. 485-508.
Latte K. Römische Religionsgeschichte. München, 1960.
L'Orange H.P. Art Forms and Civil Life in the Late Roman Empire. Princeton, 1965.
Lytellto M. Baroque Architecture in Classical Antiquity. New York, 1974.
Magie D. Roman Rule in Asia Minor. Princeton, 1950.
McRay J. Archaeology and the New Testament. Michigan, 1991.
Miltner F. Ephesos, Stadt der Artemis und des Johannes. Vienna, 1958.
Nilsson M.P. Greek Piety. Oxford, 1948.
Nock A.D. Notes on the Ruler Cult, I-IV: I. Alexander and Dionysus//The Journal of Hellenic Studies. 1928. Vol. 48. P. 21-30.
Nock A.D. Essays on Religion and the Ancient World/Ed. Z. Stewart. 2 vols. Oxford, 1972.
Ohlemutz E. Die Kulte und Heiligtümer der Götter in Pergamon. Darmstadt, 1968.
Pleket H.W. An Aspect of the Emperor Cult: Imperial Mysteries//Harward Theological Review. 1965. Vol. 58. № 4. Р. 331-347.
Price S.R.F. Rituals and Power: The Roman Imperial Cult in Asia Minor. Cambridge, 1984.
Ramsay W.M. Studies in the Roman Province of Galatia//Journal of Roman Studies. 1922. Vol. 12. Р. 147-186.
Robert L. Nouvelles Remarques sur l'Edit d'Eriza//Bulletin de correspondence hellenique. 1930. Vol. 34. Р. 262-267.
Schazmann P. Das Gymnasion. Der Tempelbezirk der Hera Basileia (Altertümer von Pergamon,VI). Berlin, 1923.
Scherrer S.J. Sings and Wonders in the Imperial Cult: A New Look at a Roman Religious Institution in the Light of Rev. 13:13-15//The Journal of Biblical Literature. 1984. Vol. 103. № 4. P. 599-610.
Seager A.R., Kraabel A.T. The Sinagogue and the Jewish Community//Sardis from Prehistoric to Roman Times. Results of the Archaeological Exploration of Sardis 1958-1975. Harvard, 1983. P. 168-190.
Sjoqvist E. Kaisareion: A Study in Architectural Iconography//Opuscula Romana XVIII. Stockholm: C.W.K. Gleerup, 1954. P. 88-108.
Smith. E.B. Architectural Symbolism of Imperial Rome and the Middle Ages. Princeton, 1956.
Smith R.R. The Imperial Reliefs from the Sebasteion at Aphrodisias//The Journal of Roman Studies. 1987. Vol. 77. Р. 88-138.
Villard de M.U. The Temple of the Imperial Cult at Luxor//Archaeologia. 1953. Vol. 140. P. 85-105.
Ward-Perkins J.B., Ballance M. The Caesareum at Cyrene and the Basilica at Cremma//Papers of the British School in Rome. 1958. Vol. 26. Р. 137-194.
Yegül F.K. A Study in Architectural Iconography: Kaisersaal and the Imperial Cult//The Art Bulletin. 1982. Vol. 64. № 1. Р. 7-31.
Yegül F.K. The Marble Court of Sardis and Historical Reconstructions//Journal of Field Archaeology. 1976. Vol. 3. № 2. Р. 169-194.
Zimmermann N., Landstatter S. Wall Painting in Ephesos. Istanbul, 2011.
Еще