Colored grapes byproducts as the source for bio-active products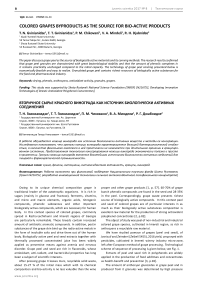 The paper discusses grape peel as the source of biologically active materials and its canning methods. The research results confirmed that grape peel granules are characterized with great bacteriological stability and that the amount of phenolic complexes in it remains practically unchanged compared to the initial capacity. The technology of grape peel canning presented below is economically feasible and easy to realize. Granulated grape peel contains richest resources of biologically active substances for the food and pharmaceutical industry.
Drying, phenols, anthocyans, antioxidant activity, granules, grapes
Короткий адрес: https://sciup.org/14110313
IDR: 14110313
Список литературы
Colored grapes byproducts as the source for bio-active products
Khvedelidze V.G., Gordeladze T.G., Gvinianidze T.N. Production of granulated tea enriched with sweet extracts//Food Industry. 1989. № 11. Pp.56-59..
Nilov V.I., Skurikhin I.M. Chemistry of winemaking. PP, Moscow. 1967..
Kishkovsky E.N., Skurikhin I.M Chemistry of wine, Food industry. Moscow. 1976..
Gvinianidze T.N., Arzumanian A.N., Mamrikishvili L.G., Gvinianidze T.T. Storage of Wine-Making Secondary Resources as the Richest Source of Biologically Active Substances -Proccedings of National Polytechnic University of Armenia. Yerevan 2015. Pp.40-47..
Gvinianidze T.N., Mamrikishvili L.M., Gvinianidze T.T. Study of phenolic compounds Georgian variety grape-stone and developing technology of food additive with radioprotective activity. Proceedings of I International Scientific Conference "Climate Change and its Impact on Sustainable and Safe Development of Rural Economy". Academy of Agricultural Sciences of Georgia. 2014. Pp.257-260. (in Georgian).
Kennedy J.A., Matthews M.A., Waterhouse A.L. Effect of Maturity and Vine Water Status on Grape Skin and Wine Flavonoids. Am. J. Enol. Vitic. 53 Pp.68-74.
Durmishidze S.V., Sopromadze A.N. Communications of the AN of the GSSR. 64, 3, 691. Tbilisi. 1971..
Gelashvili N., Dzhmukhadze K. Methods for the determination of catechins of grapes-Zh, Winemaking and viticulture of the USSR. M. 1981. p. 21..
Gvinianidze T. Liquid preparations technology sector catechins (Studies). L&L Publishing. Titusville, FL, USA. 2012. p. 41-44.
Gvinianize T., Mamrikisvili L., Fhutkaradze Z. Production of Liquer Eco-Wines with a High Terapeutic and Sensory Potential//BULLETIN of Akaki Tsereteli State University. 2014. No. 2(4). Pp. 83-93.
Gabidzashvili M.A., Gvinianidze T.T., Chokhonelidze V.A. The results of studying hydrophilic compounds of Saperavi variety grape-stone. Proceedings of I International Scientific-Practical Conference. Stavropol, 2014, pp. 91-93..
Еще