Development of a polymer composition to protect textile material from bio-damage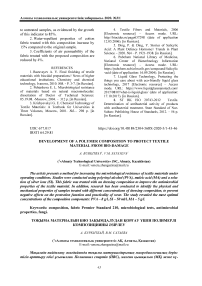 The article presents a method for increasing the microbiological resistance of textile materials under operating conditions. Studies were conducted using polyvinyl alcohol (PVA), maleic acid (MA) and a solution of silver ions (SI). This fabric was treated with an dressing composition to improve the antimicrobial properties of the textile material. In addition, research has been conducted to identify the physical and mechanical properties of samples treated with different concentrations of dressing composition, to prevent negative effects on the protection function and practicality of wear. The study revealed the most optimal concentrations of the composition components: PVA - 8 g/l, SI - 50 ml/l, MA - 5 g/l.
Еще
Composition, fabric premier standard 210, microbiological tests, antimicrobial properties, fungi
Короткий адрес: https://sciup.org/140256784
IDR: 140256784   |   DOI: 10.48184/2304-568X-2020-3/1-43-46
Список литературы
Development of a polymer composition to protect textile material from bio-damage
Razuvaev A.V. Final finishing of textile materials with biocidal preparations. News of higher educational institutions. Chemistry and chemical technology. Ivanovo, 2010, vol. 53, issue 8.-Р. 3-7.
Encyclopedia of polymers. Editorial Board: chief editor V.A. Kabanov and others. - M.: "Soviet encyclopedia", 1974. - Vol. 2. - 1032 p.
State standard 9.048-89 Methods of laboratory tests for resistance exposure to mold fungi. - Introd. 1991-07-01. - M.: State standard of the USSR union: Standards Publishing House, 1989. -23 p..
Kutzhanova A.Zh., Tausarova B.R., Burkitbay A. Giving antimicrobial properties to cellulose textile materials. / Materials of the International scientific and technical conference "Food and light industry in the strategy of entering the Republic of Kazakhstan among the 50 most competitive countries in the world". - Almaty, ATU, 2007. - P. 216-218.
Prozorkina H.V., Rubashkina P.A. Fundamentals of Microbiology, Virology and immunology: textbook, 4th ed. - Rostov-on-don 2006. - 380 p.