Elections and political advertising in Georgia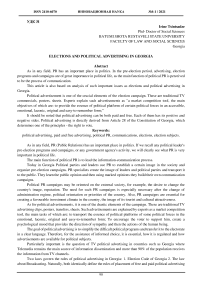 As in any field, PR has an important place in politics. In the pre-election period, advertising, election programs and campaigns are of great importance in political life, as the main function of political PR is perceived to be the process of communication. This article is also based on analysis of such important issues as elections and political advertising in Georgia. Political advertisement is one of the crucial elements of the election campaign. These are traditional TV commercials, posters, sheets. Experts explain such advertisements as "a market competition tool, the main objectives of which are: to provide the essence of political platform of certain political forces in an accessible, emotional, laconic, original and easy-to-remember form;" It should be noted that political advertising can be both paid and free. Each of them has its positive and negative sides. Political advertising is directly derived from Article 28 of the Constitution of Georgia, which determines one of the principles - the right to vote.
Еще
Political advertising, paid and free advertising, political PR, communications, elections, election subjects.
Короткий адрес: https://sciup.org/14120816
IDR: 14120816
Список литературы
Elections and political advertising in Georgia
Matsaberidze M., "Elections and political marketing" Tbilisi 1997
Lominadze S., PR - Campaigns PR -Practice, Technical University, Tb. 2009
NDI - Public Opinion Survey - 2013
Law of Georgia on Broadcasting
Election Code of Georgia
Media and elections. Yasha Lang. Tb. 2004