Social psychology analysis and countermeasures on Chinese regional conflicts during COVID-19 pandemic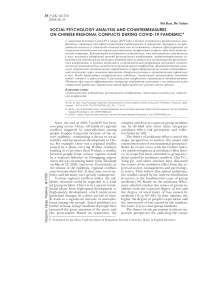 Since the outbreak of Covid-19 in late 2019, regional conflicts have increased in China, threatening social stability and harmony. Based on the analysis and socio-psychological research, the article focuses on the socio-psychological roots of regional conflicts against the backdrop of a serious epidemic situation. As a result of the study, it was found that cognitive deviations among the masses are the starting point of regional conflicts, dissatisfaction with social expectations is a necessary condition for the emergence of regional conflicts, and a sense of imbalance and relative deprivation are the psychological dynamic mechanism of regional conflict. The activity mechanism of social mentality is undergoing its transformation on the basis of individual psychology through self-categorization, depersonalization and emotional infection, etc. When extreme events occur, the social mentality gets a new impetus to strengthen, and regional conflicts become inevitable. Therefore, when searching for effective countermeasures, it is necessary to start with an investigation of the essence of a social problem, carefully analyzing the problem from different points of view.
Еще
Psychological motivation, regional conflicts, social psychology, sociology of conflict
Короткий адрес: https://sciup.org/140290298
IDR: 140290298
Список литературы
Social psychology analysis and countermeasures on Chinese regional conflicts during COVID-19 pandemic
Beck U. Risk: Towards a New Modernity // Beck U. Risk Society / Transl. by He Bowen. – Yilin Press, 2004.
Bon, Le G. The Mob: A Study of Popular Psychology / Transl. by Feng Keli. – Guilin: Guangxi Normal University Press, 2007.
Chen Jian. Social Expectations of the Role of Public Leadership from the Perspective of Governance Modernization // Leadership Science. – 2017, № 03. – P. 4–6.
Chen Long. From Mao Zedong to Xi Jinping: The Inheritance and Development of the Idea of Correctly Handling the Contradictions among the People // Journal of Hunan University of Science and Technology (Social Science Edition). – 2019, № 22 (01). – P. 22–30.
Chen Manqi. Self-categorization and its Influence on Intergroup Relations // Youth Research. – 2019, № 05. – P. 45–53+95.
Durkheim E. Basic Forms of Religious Life. – Shanghai: Shanghai People's Publishing House, 1999.
Hollick-Jones T., etc. Social Dynamics of Environmental Risk Perception / Ed. by N. Pidge, etc.; transl. by Tan Hongkai. – Beijing: China Labor and Social Security Press, 2010.
Hu Chunyang. Construction of Socialist Core Value Identity in the Transition Period // Research on Socialism with Chinese Characteristics. – 2015, № 01. – P. 65–70.
Li Rujun, Chen Ling. The Collective Unconscious Reflection on The Entertainment of Advertising // Contemporary Communication. – 2011, № 02. – P. 92–94+97.
Li Xiaoling. Research on Strengthening Social Identity of Socialist Core Values // Journal of Shanghai University of Business Studies. – 2012, № 6.
Swendson R. Philosophy of Fear. – Beijing: Peking University Press, 2010.
Slovic P. Perceived Risk, Trust, and Democracy // Risk Analysis. – 1993, № 13(6). – P. 675–682.
Tan Shuang. Formation and Regulation of Social Stability Risk of NIMBY Project–Based on the Perspective of Anxiety Psychology // Journal of Beijing University of Aeronautics and Astronautics (Social Science Edition).– 2013, № 03.
Tao Peng, Tong Xing. Nimby Type Mass Incident and Their Governance // Nanjing Social Sciences. – 2010, № 08. – P. 63–68.
Turner J.H. The Structure of Sociological Theory (part I&II). – Huaxia Publishing House, 2000.
Wang Weiquan. Risk Amplification, Collective Action and Policy Game – Research on the evolution path of violent resistance in environmental group incidents // Journal of Public Management. – 2015, № 12(01). – P. 127–136+159.
Xi Jinping. Xi Jinping: The Governance of China. – Beijing: Foreign Languages Press, 2014.
Yang Yiyin. The Psychological Relationship Between the Individual and the Macro Society: the Definition of the Concept of Social Mentality // Sociological Studies. – 2006, № 04. – P. 117–131+244.
Zhu Yangguang, Yang Jie, Zou Liping, Qiao Mengmeng, Tian Yu, Xu Hongze. Review and Prospect of the Research on the NIMBY (Not In My Back Yard) Syndrome // Modern Urban Research. – 2015, № 10. – P. 100–107.
Еще