Современные тенденции неблагоприятной клинико-социальной динамики расстройств личности при проблемном использовании интернета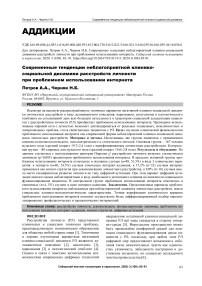 Несмотря на высокую распространённость типичных вариантов негативной клинико-социальной динамики личностных расстройств в виде делинквентного поведения, наркомании, алкоголизма и патологического гемблинга на сегодняшний день всю большую актуальность в траектории социальной дезадаптации пациентов с расстройствами личности (РЛ) приобретает проблемное использование интернета. Чрезмерное использование мировой сети с легкостью позволяет дистанцироваться от реальных социальных, межличностных и эмоциональных проблем, столь свойственных пациентам с РЛ. Цель: изучение клинической феноменологии проблемного использования интернета как современной формы неблагоприятной клинико-социальной динамики личностных расстройств. Материал и методы. Исследованы две группы пациентов с применением клинико-психопатологического, психометрического и статического методов. Основная группа - 167 человек мужского пола (средний возраст 19,7±2,4 года) с верифицированным личностным расстройством. Контрольная группа - 80 здоровых лиц мужского пола (средний возраст 19,6±2,8 года). Результаты и обсуждение. По данным статистики с использованием критерия Пирсона X расстройство личности являлось статистически значимым (p function show_abstract() { $('#abstract1').hide(); $('#abstract2').show(); $('#abstract_expand').hide(); }
Еще
Расстройство личности, декомпенсация, прогрессирующая динамика, проблемное использование интернета, интернет-аддикция, копинг-стратегия, цифровая аутизация
Короткий адрес: https://sciup.org/142226141
IDR: 142226141   |   DOI: 10.26617/1810-3111-2020-3(108)-83-91
Список литературы
Современные тенденции неблагоприятной клинико-социальной динамики расстройств личности при проблемном использовании интернета
Tyrer P., Reed G.M., Crawford M.J. Classification, assessment, prevalence, and effect of personality disorder. The Lancet. 2015 February; 385(9969): 717-726. DOI: 10.1016/S0140-6736(14)61995-4
Мокаева Б.И. Психические расстройства, алкоголизм и наркомании как этиологические факторы криминальной агрессии. Российский психиатрический журнал. 2008; 1: 4-7.
Kock P., Walter M. Personality disorder and sub stance use disorder - an update. Mental Health & Prevention. 2018; 12): 82-89. DOI: 10.1016/j.mhp.2018.10.003
Lorains F.K., Cowlishaw S., Thomas S.A. Preva lence of comorbid disorders in problem and pathological gambling: Systematic review and meta-analysis of population surveys. Addiction. 2011 Mar; 106(3): 490-498. 10.1111/j.1360- 0443.2010.03300.x DOI: 10.1111/j.1360-0443.2010.03300.x
Wu J.Y.W., Ko H.C., Lane H.Y. Personality disor ders in female and male college students with Internet addiction. The Journal of nervous and mental disease. 2016 Mar; 204(3): 221-225. DOI: 10.1097/NMD.0000000000000452
Farahani M., Alavi S.S., Bafghi M.M., Alamut S.E., Taghavi Z., Mohammadi M. Psychological factors including demographic features, mental illnesses, and personality disorders as predictors in internet addiction disorder. Iranian Journal of Psychiatry. 2018 Apr; 13(2): 103-110.
Weinstein A., Dorani D., Elhadif R., Bukovza Y., Yarmulnik A. Internet addiction is associated with social anxiety in young adults. Annals of Clinical Psychiatry. 2015 February; 27(1): 4-9.
DOI: 10.1093/med/9780199380183.003.0001
Pontes H., Patrao I. An exploratory study on the perceived motivations underpinning excessive internet use among adolescents and young adults. Psychology, Community & Health. 2014; 3(2): 90102.
DOI: 10.5964/pch.v3i2.93
Ko C.H., Yen J.Y., Chen C.S., Yeh Y.C., Yen C.F. Predictive values of psychiatric symptoms for internet addiction in adolescents: a 2-year prospective study. Archives of Pediatrics & Adolescent Medicine. 2009 Oct; 163(10): 937-943. 10.1001 /archpediatrics.2009.159
DOI: 10.1001/archpediatrics.2009.159
Sariyska R., Reuter М., Lachmann В., Montag C. Attention deficit/hyperactivity disorder is a better predictor for problematic Internet use than depression: Evidence from Germany. Journal of Addiction Research & Therapy. 2015; 6(209): 1-6.
DOI: 10.4172/2155-6105.1000209
Goldberg I. Internet addiction disorder. 1996. In Psychom.net, accessed 20 November 2004.
Caplan S.E. Problematic Internet use and psychosocial well-being: development of a theory-based cognitive-behavioral measurement instrument. Computers in Human Behavior. 2002; 18(5): 553 -575.
DOI: 10.1016/S0747-5632(02)00004-3
Durkee T., Kaess M., Carli V., Parzer P., Wasser-man C., Floderus B., Apter A., Balazs J., Barzilay S., Bobes J., Brunner R., Corcoran P., Cosman D., Cotter P., Despalins R., Graber N., Guillemin F., Haring С., Kahn J.-P., Mandelli L., Marusic D., Meszaros G., Musa G.J., Postuvan V., Resch F., Saiz P.A., Sisask M., Varnik A., Sarchiapone M., Hoven C.W., Wasserman D. Prevalence of pathological internet use among adolescents in Europe: demographic and social factors. Addiction. 2012 Dec; 107(12): 2210-2222.
DOI: 10.1111/j.1360-0443.2012.03946.x
Quinones C., Kakabadse N.K. Self-concept clarity, social support, and compulsive Internet use: A study of the US and the UAE. Computers in Human Behavior. 2015; 44. С.347-356.
DOI: 10.1016/j.chb.2014.11.019
Ko C.H., Yen J.Y., Yen C.F., Chen C.S., Chen C.C. The association between Internet addiction and psychiatric disorder: a review of the literature. European Psychiatry. 2011 December; 27(1): 1-8.
DOI: 10.1016/j.eurpsy.2010.04.011
Siomos K.E., Dafouli E., Braimiotis D., Mouzas O., Angelopoulos N. Internet addiction among Greek adolescent students. CyberPsychology & Behavior. 2008 December; 11(6): 653-657.
DOI: 10.1089/cpb.2008.0088
American Psychiatric Association et al. Diagnostic and statistical manual of mental disorders (DSM-5®). American Psychiatric Pub, 2013.
Lenzenweger M.F. Epidemiology of personality disorders. Psychiatric Clinics of North America. 2008 September; 31(3): 395-403.
DOI: 10.1016/j.psc.2008.03.003
Floros G., Siomos K. Excessive Internet use and personality traits. Current Behavioral Neuroscience Reports. 2014 March; 1(1): 19-26.
DOI: 10.1007/s40473-014-0006-1
Muller K.W., Beutel M.E., Wolfling K. A contribu tion to the clinical characterization of Internet addiction in a sample of treatment seekers: validity of assessment, severity of psychopathology and type of comorbidity. Comprehensive Psychiatry. 2014 May; 55(4): 770-777.
DOI: 10.1016/j.comppsych.2014.01.010
Короленко Ц.П., Дмитриева Н.В. Личностные и диссоциативные расстройства. Новосибирск: Издательство "Новосибирский государственный педагогический университет", 2006: 448.
http://id.who.int/icd/entity/941859884
Гурьева В.А., Гиндикин В.Я. Юношеские психопатии и алкоголизм. М.: Медицина, 1980: 272.
Hsu S.H., Wen M.H., Wu M.C. Exploring user experiences as predictors of MMORPG addiction. Computers & Education. 2009; 53(3): 990-999.
DOI: 10.1016/j.compedu.2009.05.016
Suwa M., Suzuki K. The phenomenon of "hikikomori" (social withdrawal) and the sociocultural situation in Japan today. Journal of Psychopathology. 2013; 19: 191-198.
Еще