Translation practices as an effective teaching instrument for ielts & dalf students in india: a case study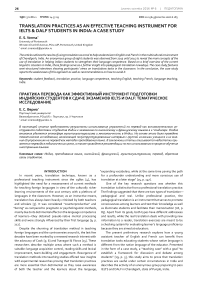 The article outlines the results of using translation as a tool to help students learn English and French in the multicultural environment of Chandigarh, India. An anonymous group of eight students was observed from 2013 until 2015 to reveal the main concepts of the use of translation in helping Indian students to strengthen their language competence. Based on a brief overview of the current linguistic situation in India, these findings serve as a further insight into pedagogical translation nowadays. The case study features semi-structured interviews showing participants' views on translations tasks in the classroom. In the conclusion, the case study reports the weaknesses of this approach as well as recommendations on how to avoid it.
Еще
Student feedback, translation practice, language competence, teaching english, teaching french, language teaching, india
Короткий адрес: https://sciup.org/14110237
IDR: 14110237   |   DOI: 10.15643/jscientia.2016.6.183
Список литературы
Translation practices as an effective teaching instrument for ielts & dalf students in india: a case study
Bagå, S., & Wikefjord, T. (2014). A Model for spoken English? -A Minor Field Study of Teachers' Attitudes towards Spoken English in Punjab, India. Retrieved from: https://gupea.ub.gu.se/bitstream/2077/37631/1/gupea_2077_37631_1.pdf
Baldridge, J. (1996). Reconciling Linguistic Diversity: The History and the Future of Language Policy in India. Retrieved from http://www.ling.upenn.edu/~jason2/papers/natlang.htm
Butzkamm, W., & Caldwell, J. (2009). The bilingual reform a paradigm shift in foreign language teaching. Tübingen: Narr.
Chamot, A., & Kupper, L. (1989). Learning strategies in foreign language instruction. Foreign Language Annals, 22(1), 13-22 DOI: 10.1111/j.1944-9720.1989.tb03138.x
Cook, G. (2010). Translation in language teaching: An argument for reassessment. Oxford: Oxford University Press.
Cook, G. (2013). Translation in language teaching. In M. Byram, A. Hu (Eds.), Routledge encyclopedia of language teaching and learning (2nd ed., pp. 737-740). Abingdon, Oxon: Routledge.
Crystal, D. (2005). Mother-tongue India. Retrieved from http://www.davidcrystal.com/?fileid=-4052
Davies, M. (2004). Multiple voices in the translation classroom: Activities, tasks and projects. Amsterdam: John Benjamins Publishing Co.
Díaz-Rico, L. (2012). Strategies for teaching English learners (3rd ed.). Boston: Allyn & Bacon.
Newmark, P. (1993). Paragraphs on translation. London: Multilingual Matters.
Pym, A., Malmkjaer, K., Gutierrez-Colon Plana, M. M. Translation and Language Learning: The Role of Translation in the Teaching of Languages in the European Union. Luxembourg: Publications Office of the European Union, 2013.
Sarantakos, S. (2005). Social research (3rd ed.). Basingstoke: Palgrave Macmillan.
Snell-Hornby, M. (1985). Translation as a means of integrating language teaching and linguistics. In C. Tifford & A. E. Hieke (Eds.), Translation in foreign language teaching and testing (pp. 21-28). Tübingen: G. Narr.
Statewise position of the implementation of the three language formula, with particular reference to Urdu. (n.d.). Retrieved from http://www.teindia.nic.in/mhrd/50yrsedu/u/47/3Y/473Y0Q01.htm
Tsagari, D., & Floros, G. (Eds.). (2013). Translation in language teaching and assessment. Newcastle upon Tyne: Cambridge Scholars Publishing.
Vandergrift, L. (2003). Orchestrating strategy use: Toward a model of the skilled Second language listener. Language Learning, 53(3), 463-496 DOI: 10.1111/1467-9922.00232
Verma, E. (2016). Linguistic rights and children education in India. In E. Niushenkova, A. Beltser, Y. Kuznetsova, & O. Podkopaev (Eds.), Current approaches and trends in scientific research of the XXI century: Papers of International research and practice conference (pp. 9-12). Samara.
Vermes, A. (2010). Translation in Foreign Language Teaching: A Brief Overview of Pros and Cons. Eger Journal of English Studies, 10, 83-93.
Yin, R. (2003). Case study research: Design and methods (3rd ed.). Thousand Oaks, CA: Sage Publications.
Еще