The strategy of development. Рубрика в журнале
- Economic and Social Changes: Facts, Trends, Forecast
Публикации в рубрике (3):
The strategy of development
все рубрики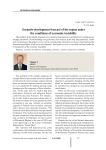 Scenario development forecast of the region under the conditions of economic instability
Статья научная
The problem of the reliable prognoses of economical development is mainframe for making up any strategic document. No methodology can guarantee clear indexes of the long-rang dynamics. Under such circumstances the proper way out can be creating of the alternative scenarios, characterizing the threshold possibilities of the event development. Such point of view is especially relevant under the circumstances of the economic instability.
Бесплатно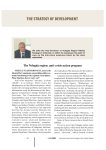 The Vologda region: anti-crisis action program
Другой
We offer the Vice-Governor of Vologda Region Nikolai Kostygov's interview, in which he expresses his point of view on the anti-crisis measures taken by the local authorities.
Бесплатно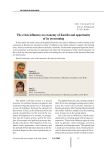 The crisis influence on economy of Karelia and opportunity of its overcoming
Статья научная
In this article the main causes of the global financial crisis and its influence on the economy of the autonomy of Karelia are presented in brief. It influences the timber industry complex, the banking area, and as a result the social sphere in Karelia's economy. In this under-populated region the small-scale enterprises' activity plays an important role under the circumstances of the critical situation. In this article the ways and opportunities of the overcoming the crisis by means of the invariant decisions are represented.
Бесплатно