Branch economy. Рубрика в журнале
- Economic and Social Changes: Facts, Trends, Forecast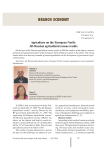 Agriculture on the European north: All-Russian agricultural census results
Статья научная
On the basis of All-Russian agricultural census results of 2006 the analysis of the objects, resource potential and agriculture pattern of the European North of Russia is given in the article. The census results allow us to draw up a number of concrete guidelines on the development of government's agricultural policy.
Бесплатно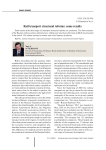 Rail transport structural reforms: some results
Статья научная
Some results of the third stage rail transport structural reforms are examined. The short analyses of the Russian railway system, infrastructure, rolling stock and main directions of R&D are presented in the article. The author touched economic and social impacts of reforms.
Бесплатно