A model of non-verbal communication means structuring: an intercultural aspect (on the material of the czech and russian cultures)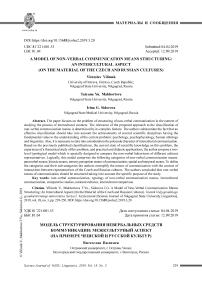 The paper focuses on the problem of structuring of non-verbal communication in the context of studying the process of intercultural contacts. The relevance of the proposed approach to the classification of non-verbal communication means is determined by its complex feature. The authors substantiate the fact that an effective classification should take into account the achievements of several scientific disciplines having the fundamental value to the understanding of the current problem: psychology, psychophysiology, human ethology and linguistics. Also, it is necessary to take into consideration the polycode character of intercultural communication. Based on the previously published classifications, the current state of scientific knowledge on this problem, the experience of a theoretical study of this problem, and practical and didactic applications, the author propose a two- level typological model which is specially designed to compare the non-verbal behaviours of different cultures representatives. Logically, this model comprises the following categories of non-verbal communication means: paraverbal means; kinesic means; sensory perception means of communication; spatial and temporal means. To define the categories and their sub-categories the authors exemplify the means of communication with the context of interactions between representatives of the Czech and Russian cultures. The authors concluded that non-verbal means of communication should be structured taking into account the specific purpose of the study.
Еще
Nonverbal communication, typology of non-verbal communication means, intercultural communication, comparative studies, national cultures, intercultural comparison
Короткий адрес: https://sciup.org/149129991
IDR: 149129991   |   DOI: 10.15688/jvolsu2.2019.3.20
Список литературы
A model of non-verbal communication means structuring: an intercultural aspect (on the material of the czech and russian cultures)
Adler R.B., Proctor R.F., 2010. Looking out, Looking in. Australia, Boston, Wadsworth/Cengage Learning. 462 p.
Akishina A.A., Kano H., 1980. Slovar russkikh zhestov i mimiki [The Dictionary of Russian Gestures and Facial Expressions]. Tokio, Nauka Publ. 345 p.
Andreeva G.M., 1988. Sotsialnaya psikhologiya [Social Psychology]. Moscow, Izd-vo MGU. 429 p.
Andrianov M.S., 2007. Neverbalnaya kommunikatsiya: psikhologiya i pravo [Non-Verbal Communication: Psychology and Law]. Moscow, The Institute of Humanities Research. 256 p.
Broszinsky-Schwabe E., 2017. Interkulturelle Kommunikation: Missverstдndnisse und Verstдndigung. Springer-Verlag. 288 p.
Butovskaya M.L., 2004. Yazyk tela: priroda i kultura [The Language of the Body: Nature and Culture]. Moscow, Nauchnyy mir Publ. 440 p.
DeVito J.A., 2001. Zбklady mezilidskй komunikace. Praha, Grada Publishing. 420 p.
DeVito J.A., 2005. Human Communication: The Basic Course. Boston, London, Pearson/Allyn & Bacon. 480 p.
Ekman P., Friesen W.V., 1969. The Repertoire of Non-Verbal Behaviour: Categories, Usage and Coding. Semiotica, vol. 1, pp. 49-98.
Gorelov I.N., 2003. Izbrannye trudy po psikholingvistike [Selected Studies in Psycholunguistics]. Moscow, Labirint Publ. 320 p.
Grigoryeva S.A., Grigoryev N.V., Kreydlin G.E., 2001. Slovar yazyka russkikh zhestov [The Dictionary of Russian Gestures]. Moscow, Yazyki russkoy kultury Publ., Vienna, Wiener Slavistischer Almanach. 256 p.
Hall E.T., 1963. A System for the Notation of Proxemic Behaviour. American Anthropologist, vol. 65, iss. 5, pp. 1003-1026.
Hayes A.S., 1964. Paralinguistics and Kinesics: Pedagogical Perspectives. Sebeok T.A., Hayes A.S., Bateson M.C., eds. Approaches to Semiotics: Cultural Anthropology, Education, Linguistics, Psychiatry, Psychology. Hague, Mouton and Co., pp. 145-172.
Jarz№bek K, Pintariж N., 2012. Polsko-chorwacki siownik gestykulacji, mimiki i postaw ciaia - Poljsko-hrvatski rjeиnik gestikulacije, mimike i stava tijela. Katowice, Akant Publ. 171 p.
Klein Z., 1998. Atlas sйmantickэch gest. Praha, HZ editio. 201 p.
Klokova L.N., Dmitrieva L.I., Pavlova V.V., 2003. Slovar yazyka zhestov [The Dictionary of the Language of Gestures]. Мoscow, Astrel Publ. 320 p.
Knapp M., Hall J., 2007. Neverbalnoe obshchenie: mimika, dvizheniya, pozy i ikh znacheniya [Non-Verbal Communication: Mimics, Gestures, Motions, Poses and Their Meanings]. Saint Petesburg, Prime-Evroznak Publ. 512 p.
Kochetkov V.V., 2002. Psikhologia mezhkulturnykh razlichiy [Psychology of the Intercultural Differences]. Moscow, PER SE Publ. 416 p.
Kolshansky G.V., 1974. Paralingvistika [Paralinguistics]. Moscow, Nauka Publ. 80 p.
Kreydlin G.E., 2004. Neverbalnaya semiotika: Yazyk tela i estestvennyy yazyk [Non-Verbal Semiotics: The Language of the Body and the Natural Language]. Moscow, Novoe literaturnoe obozrenie Publ. 581 p.
Krysko V.G., 2004. Sotsialnaya psikhologiya: slovar-spravochnik [Social Psychology: Dictionary]. Minsk, Kharvest Publ. 688 p.
Kulikova L.V., 2004. Mezhkulturnaya kommunikatsiya: teoreticheskie i prikladnye aspekty. Na materiale russkoy i nemetskoy lingvokultur [Intercultural Communication: Theoretical and Practical Aspects. On the Material the Russian and German Lingvocultures]. Krasnoyarsk, RIO KSPU Publ. 196 p.
Labunskaya V.A., 1986. Neverbalnoe povedenie (sotsialno-pertseptivnyy podkhod) [Non-Verbal Behaviour (A Social and Perseptive Approach)]. Rostov-on-Don, Rostov University Publ. 135 p.
Mistrik J., 1999. Vektory komunikбcie. Bratislava, Univerzita Komenskйho. 80 p.
Molchanova G.G., 2014. Kognitivnaya neverbalika kak polikodovoe sredstvo mezhkulturnoy kommunikatsii: kinesika [Cognitive Body Language as a Poly-Code Means of Intercultural Communication: Kinesics]. Vestnik Moskovskogo universiteta. Seriya 19, Lingvistika i mezhkulturnaya kommunikatsiya [Bulletin of Moscow University. Series 19. Linguistics and Intercultural Communication], no. 2, pp. 13-30.
Morozov V.P., 1998. Iskusstvo i nauka obshcheniya: neverbalnaya kommunikatsiya [The Art and the Science of Communication: Non-Verbal Communication]. Moscow, Iskusstvo i nauka Publ. 189 p.
Morreale S.P., Spitzberg B.H., Barge J.K., 2007. Human Communication: Motivation, Knowledge, and Skills. Belmont, CA, Thomson Wadsworth. 490 p.
Nikolaeva T.M., Uspensky B.A., 1966. Yazykoznanie i paralingvistika [Linguistics and Paralinguistics]. Lingvisticheskie issledovaniya po obshchey slavyanskoy tipologii [Linguistic Research in General Slavic Typology]. Moscow, Nauka Publ, pp. 63-74.
Ruћiиkovб E., 2001. Picture Dictionary of Gestures. American, Slovak, Japanese and Chinese. Bratislava, Comenius University Publishing House. 195 p.
Sadokhin A.P., 2004. Mezhkulturnaya kommunikatsiya [Intercultural Communication]. Moscow, Alfa-M Publ., INFRA-M Publ. 195 p.
Stefanenko T.G., 2004. Etnopsikhologiya [Ethnopsychology]. Moscow, Aspect Press Publ. 368 p.
Ting-Toomey S., 1999. Communicating Across Cultures. New York, London, The Guilford Press. 261 p.
Vilнmek V., 2011a. Otrazhenie etnicheskoy prinadlezhnosti v neverbalnom plane obshcheniya [The Reflection of the Ethnical Identity in Non-Verbal Communication]. Toїsamoњж na styku kultur. Vilnius, Edukologija Publ., vol. 2, pp. 284-292.
Vilнmek V., 2011b. Sйmantickй gestб v interlingvбlnej komunikбcii. Nitra, Univerzita Konљtantнna Filozofa Publ. 156 p.
Vybнral Z., 2000. Psychologie lidskй komunikace. Praha, Portбl Publ. 263 p.
Еще