Analysis of the current innovations in Yotel hotels in Singapore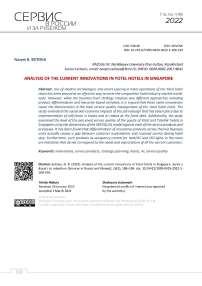 Use of modern technologies and smart spacing in hotel operations of the Yotel hotel chain has been proved as an effective way to enter the competitive hotel industry market worldwide. However, while the business-level strategy employs two different approaches including product differentiation and low-price based activities, it is argued that these same innovations cause the deterioration in the total service quality management of the Yotel hotel chain. The study evaluated the social and economic impacts of the job redesign that has taken place due to implementation of self-check in kiosks and AI robots at the front desk. Additionally, the study examined the level of the perceived service quality of the guests of Yotel and YotelAir hotels in Singapore using the dimensions of the SERVQUAL model against each of the service products and processes. It has been found that differentiation of innovative products across the two business units actually causes a gap between customer expectations and received service during hotel stay. Furthermore, such products as occupancy control for heat/AC and LED lights in the room are initiatives that do not correspond to the needs and expectations of all the current customers
Еще
Innovations, service products, strategic planning, hotels, ai, service quality
Короткий адрес: https://sciup.org/140293600
IDR: 140293600
Список литературы
Analysis of the current innovations in Yotel hotels in Singapore
Angelova, B., & Zekiri, J. (2011). Measuring customer satisfaction with service quality using American Customer Satisfaction Model (ACSI Model). International Journal of Academic Research in Business and Social Sciences, 1(3), 232-258.
Baraskova, J. (2010). Strategic Positioning and Sustainable Competitive Advantage in Food Industry. Msc Thesis, Aarhus School of Business. Available at: https://pdfs.seman-ticscholar.org/6317/bddacc313baf53845cd918e9638d089d8637.pdf (Accessed on January 15, 2022).
Blain, M., & Lashley, C. (2014). Hospitableness: The new service metaphor? Developing an instrument for measuring hosting. Research in Hospitality Management, 4(1-2), 1-8.
Brotherton, B., & Wood, R. C. (2008). The nature and meanings of hospitality. In: The SAGE handbook of hospitality management. London: SAGE, 37-61.
Cordle, I. (2018). A mini revolution: The strategy behind YotelPad's first East Coast hotel-condo project. The Real Deal, 18 Apr. URL: https://www.yotel.com/media/2237/1942018-the-real-deal.pdf (Accessed on January 15, 2022).
Etemad-Sajadi, R. (2018). Testing Guest Interactions With Robots. Hotel Online, 18 Dec. URL: https://www.hotel-online.com/press_releases/release/testing-guest-interactions-with-robots/ (Accessed on January 15, 2022).
Hertzfeld, E. (2019). Yotel makes Intelity a brand standard. Hotel Management, 25 Apr. URL: https://www.hotelmanagement.net/tech/yotel-makes-intelity-a-brand-standard (Accessed on January 15, 2022).
Jackson, K. (2019). YOTEL me more: Hubert Viriot on the brand tipped to change everything. AccomNews Australia, 21 Jul. URL: https://www.accomnews.com.au/2019/07/yotel-me-more-hubert-viriot-on-the-brand-tipped-to-change-everything/ (Accessed on January 15, 2022).
Johnson, G., Scholes, K., & Whittington, R. (2008). Exploring Corporate Strategy. England: Pearson Education Limited.
Johnson, M. (2018). At your service - get waited on by this Boston hotel robot, Lonely Planet, 20 Mar. URL: https://www.lonelyplanet.com/articles/boston-hotel-robot-yotel (Accessed on January 10, 2022).
Kaliappen, N., Chuah, F., Gorondutse, A. H., & Moktar, S. N. A. (2018). Hybrid competitive strategy, strategic capability and performance. Journal of Business and Retail Management Research, 13(4), 43-50.
Kandampully, J., Zhang, T., & Jaakkola, E. (2018). Customer experience management in hospitality: A literature synthesis, new understanding and research agenda. International Journal of Contemporary Hospitality Management, 30(1), 21-56.
Kim, S.-J. (2017). Room service is now delivered by robots at these hotels in Singapore. Style, 9 Nov. URL: https://www.scmp.com/magazines/style/travel-food/article/2119123/room-service-now-delivered-robots-singapores-hotel-jen (Accessed on January 15, 2022).
Kit, T. S. (2017). Self-service kiosks, 'smartbeds' and robots: The technology enhancing Singapore's hotels. Channelnewsasia, 11 Oct. URL: https://www.channelnewsasia.com/news/busi-ness/self-service-kiosks-smartbeds-and-robots-the-technology-9293454 (Accessed on January 15, 2022).
Kriston, D. (2018). Robots are taking over hotels. Medium, 25 Feb. URL: https://medium.com/ @danielakriston/robots-are-taking-over-hotels-6085afb07a31 (Accessed on January 12, 2022).
Kushwaha, G. S., & Agrawal, S. R. (2014). Customer Satisfaction via Service Quality Dimensions: An Empirical Research on Stock Broking Services: CS VIA SQD. International Journal of Customer Relationship Marketing and Management, 5(3), 32-48.
Leng, H. M., Chee, H. Y., & Chan, V. J. L. (2017). Market Pulse: Singapore. HVS, 13 Mar. URL: https://www.hvs.com/article/7959-market-pulse-singapore (Accessed on January 15, 2022).
Maheshwari, N. (2016). An overview of green practices in service sector. International Journal of Engineering Researches and Management Studies, 3(9), 48-55.
Mari, A. (2016). CIO interview: Fergus Boyd, vice-president for digital, Yotel. Computerweekly. com, 3 Feb. URL: https://www.computerweekly.com/news/4500272248/CI0-interview-Fergus-Boyd-vice-president-for-digital-Yotel (Accessed on January 15, 2022).
Melissen, F., Van der Rest, J., Josephi, S., & Blomme, R. (2018). Hospitality experience: an introduction to hospitality management. Groningen/Utrecht: Noordhoff Uitgeversbv.
Morita, T., Kashiwagi, N., Yorozu, A., Suzuki, H., & Yamaguchi, T. (2018). Implementing MultiRobot Cafe by PRINTEPS with Service Quality Dimensions. Procedia Computer Science, 126, 1954-1963.
Murasiranwa, E. T. (2012). Service quality and business performance in branded UK budget hotels. PhD Thesis. Sheffield Hallam University. URL: http://shura.shu.ac.uk/20102/ (Accessed on January 10, 2022).
Pakurar, M., Haddad, H., Nagy, J., Popp, J., & Olah, J. (2019). The Service Quality Dimensions that Affect Customer Satisfaction in the Jordanian Banking Sector. Sustainability, 11, 1-24.
Parasuraman, A., Berry, L., & Zeithaml, V. (1988). SERVQUAL: A multiple-item scale for measuring consumer perceptions of service quality. Journal of Retailing, 64, 12-40.
Pine, B., & Gilmore, J. (1999). The experience economy. Boston: Harvard Business School Press.
Shahin, A. (2006). SERVQUAL and Model of Service Quality Gaps: A Framework for Determining and Prioritizing Critical Factors in Delivering Quality Services. Hyderabad: The ICFAI University Press.
Sipe, L. J., & Testa, M. R. (2018). From Satisfied to Memorable: An Empirical Study of Service and Experience Dimensions on Guest Outcomes in the Hospitality Industry. Journal of Hospitality Marketing and Management, 27(2), 1-40.
Sorofman, J., & McLellan, L. (2014). Importance of customer experience is on the rise: Marketing is on the hook. Gartner Research, 29 Sep. URL: https://www.gartner.com/en/documents/ 2857722/gartner-survey-finds-importance-of-customer-experience-o (Accessed on January 10, 2022).
Strawderman, L., & Koubek, R. (2008). Human factors and usability in service quality measurement. Human Factors and Ergonomics in Manufacturing, 18(4), 454-463.
Yarimoglu, E. K. (2014). A Review on Dimensions of Service Quality Models. Journal of Marketing Management, 2(2), 79-93.
Еще