Combined effect of lycopen, ascorbic acid and phosphates on the quality characteristics of cooked sausages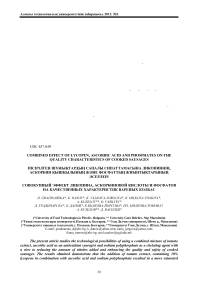 The present article studies the technological possibilities of using a combined mixture of tomato extract, ascorbic acid as an antioxidant synergist and sodium polyphosphate as a chelating agent with a view to reducing the amount of nitrites added and enhancing the quality and safety of cooked sausages. The results obtained demonstrate that the addition of tomato extract, containing 10% lycopene in combination with ascorbic acid and sodium polyphosphate resulted in a more saturated red colour and slowed the processes which induced lipid peroxidation reactions, reduce greatly the added nitrite amount and contributed to improved overall quality of structureless cooked sausage.
Еще
Sausages, lycopene, ascorbic acid, polyphosphate, quality
Короткий адрес: https://sciup.org/140205014
IDR: 140205014
Список литературы
Combined effect of lycopen, ascorbic acid and phosphates on the quality characteristics of cooked sausages
World Health Organization. (2010). Food and Agriculture Organization of the United Nations. Evaluation of certain food additives. Seventy-first report of the Joint FAO/WHO Expert Committee on Food Additives. World Health Organ Tech Rep Ser.;(956):1-80
Brewer, M.S., Mckeith, F.K. (1999). Consumer -rated quality characteristics as related to purchase intent of fresh pork.//Journal of Food Science, 64. Р. 171 -174.
Bryhni, E.A., Byrne, D.V., Rchdbotten, M., et al. (2002). Consumer perceptions of pork in Denmark, Norway and Sweden.//Food Quality and Preference, 13. -Р. 257 -266.
Francis, F.J. (2005). Quality as influenced by color.//Food Quality and Preference, 6. -Р. 149 -155.
Baldwin J. L., Chou, A.H., Solomon, W. R. (1997). Popsicle-induced anaphylaxis due to carmine dye allergy. Ann. Allergy Asthma Immunol. 79. -Р. 415-419.
Wüthrich, B., Kagi, M. K., and Stucker, W. (1997). Anaphylactic reactions to ingested carmine (E120). Allergy 52. -Р. 1133-1137.
Young, A. J. and Lowe, G. M. (2001). Antioxidant and prooxidant properties of cartenoids. Arch. Biochem. Biophys., 385.
Shixian, Q. Dai, Y. Kakuda, Y. Shi, J. Mittal, G. Yeung, D. Jiang, Y. Synergistic anti-oxidative effects of lycopene with other bioactive compounds. Food Rev. Int. 2005, 21. -Р. 295-311.
BDS EN 12014-3:2005. Foodstuffs -Determination of nitrate and/or nitrite content -Part 3: Spectrometric determination of nitrate and nitrite content of meat products after enzymatic reduction of nitrate to nitrite. Identical with EN 12014-3:2005, CEN, Bruxelles, Belgium.
Bligh, E.G., Dyer, W.J. (1959). A rapid method of total lipid extraction and purification.//Can. J.Biochem. Physiol. 37. -Р. 911-917.
Еще