Domestic tourism development in a region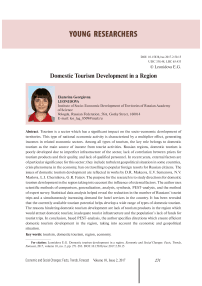 Tourism is a sector which has a significant impact on the socio-economic development of territories. This type of national economic activity is characterized by a multiplier effect, generating incomes in related economic sectors. Among all types of tourism, the key role belongs to domestic tourism as the main source of income from tourist activities. Russian regions, domestic tourism is poorly developed due to imperfect infrastructure of the sector, lack of correlation between prices for tourism products and their quality, and lack of qualified personnel. In recent years, external factors are of particular significance for this sector; they include turbulent geopolitical situation in some countries, crisis phenomena in the economy, ban on travelling to popular foreign resorts for Russian citizens. The issues of domestic tourism development are reflected in works by D.R. Makeeva, E.V. Semenova, N.V. Maslova, L.I. Chernikova, G.R. Faizov. The purpose for the research is to study directions for domestic tourism development in the region taking into account the influence of external factors...
Еще
Tourism, domestic tourism, region, economy
Короткий адрес: https://sciup.org/147223929
IDR: 147223929   |   DOI: 10.15838/esc.2017.2.50.15
Список литературы
Domestic tourism development in a region
Anchukova N.V., Moskvina O.S. Turizm v ekonomike regiona . Vologda: VNKTs TsEMI RAN, 2002. 72 p..
Granberg A.G. Osnovy regional'noi ekonomiki: ucheb. dlya vuzov . 5th edition. Moscow: GU VShE, 2006. 495 p..
Grigorenko T.N., Kaz'mina L.N. Prioritety v oblasti razvitiya vnutrennego i v"ezdnogo turizma Rossii na sovremennom etape . Vestnik natsional'noi akademii turizma , 2015, no. 4, pp. 14-17..
Kvartal'nov V.A. Turizm: uchebnik . Moscow: Finansy i statistika, 2002. 320 p..
Kosheleva A.I. Turistsko-rekreatsionnyi kompleks Kryma: problemy i perspektivy razvitiya v perekhodnyi period . Region: ekonomika i sotsiologiya , 2015, no. 3, pp. 239-254..
Kruzhalin V.I., Kruzhalin K.V., Shabalina N.V. Sostoyanie rossiiskogo turizma, problemy i perspektivy . Vestnik natsional'noi akademii turizma , 2016, no. 1, pp. 10-13..
Makeeva D.R. Ekonomika turizma Rossii na sovremennom etape: ot vyezdnogo turizma k orientirovannomu na vnutrennii rynok . Voprosy regional'noi ekonomiki , 2015, no. 1, pp. 39-48..
Ovcharova L.N. (Ed.). Naselenie Rossii v 2016 godu: dokhody, raskhody i sotsial'noe samochuvstvie. Monitoring NIU VShE. Iyul' 2016 . Moscow: NIU VShE, 2016..
Semenova E.V., Maslova N.V. Problemy razvitiya vnutrennego turizma i nekotorye puti ikh resheniya . Vestnik natsional'noi akademii turizma , 2016, no. 3, pp. 34-36..
Grinberg R.S., Rubinshtein A.Ya., Abalkin L.I., Glaz'ev S.Yu., Makarov V.L. et al. Strategicheskie orientiry ekonomicheskogo razvitiya Rossii . Saint-Petersburg: Aleteiya, 2010. 664 p..
Ilyin V.A., Plekhanov Yu.N., Uskova T.V., Selyakova S.A., Dubinicheva L.V., Markov K.V., Bogacheva E.N. Strategiya razvitiya turizma v Vologodskoi oblasti . Vologda: VNKTs TsEMI RAN, 2009. 187 p..
Tatarkin A.I., Bimatov M.R. Otsenka investitsionnykh potrebnostei sotsial'no-ekonomicheskogo razvitiya regiona . Zhurnal ekonomicheskoi teorii , 2010, no. 2, pp. 29-33..
Uskova T.V., Dubinicheva L.V., Orlova V.S. Sotsial'no-ekonomicheskii resurs turizma: monografiya . Vologda: ISERT RAN, 2011. 182 p..
Gulin K.A. K voprosu o sotsial'no-ekonomicheskoi modernizatsii rossiiskikh regionov . Ekonomicheskie i sotsial'nye peremeny: fakty, tendentsii, prognoz , 2012, no. 4 (22), pp. 42-58..
Lukin E.V., Vorontsova T.V., Smirnova T.G. Problemy ekonomicheskogo rosta territorii: monografiya . Under academic supervision of Uskova T.V. Vologda: In-t sotsial'no-ekonomicheskogo razvitiya territorii RAN, 2013. 170 p..
Chernikova L.I., Faizova G.R. K voprosu pereorientatsii na vnutrennii turizm . Finansovaya analitika: problemy i resheniya , 2016, pp. 52-60..
American Express Spending & Saving Tracker. Available at: http://about.americanexpress.com/news/sst
Economic Impact of Travel & Tourism 2015. Available at: http://www.wttc.org/research/economic-research/economic-impact-analysis
Falk J. H., Ballantyne R., Packer J., Benckendorff P. Travel and learning: Aneglected tourism research area. Annals of Tourism Research, 2012, no. 39, pp. 908-927.
International tourism. Available at: http://www.worldbank.org/en/country/russia
Antonakakis N., Dragouni M., Eeckels B., Filis G. Tourism and economic growth: Does democracy matter? Annals of Tourism Research, 2016, no. 39, pp. 231-267.
Еще