Social tourism for youth as a driver of domestic tourism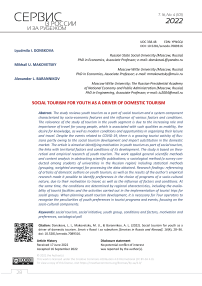 The study reviews youth tourism as a part of social tourism and a system component characterized by socio-economic features and the influence of various factors and conditions. The relevance of the study of tourism in the youth segment is due to the increasing role and importance of travel for young people, which is associated with such qualities as mobility, the desire for knowledge, as well as modern conditions and opportunities in organizing their leisure and travel. Despite the events related to COVID-19, there is a growing tourist activity of Russians partly owing to the social tourism development and import substitution in the domestic market. The article is aimed at identifying motivation in youth tourism as part of social tourism, the links with territorial factors and conditions of its development. The study is based on theoretical and empirical research of youth tourism. The work applied general scientific methods and content analysis in abstracting scientific publications; a sociological method (a survey conducted among students of universities in the Russian region) including statistical methods (grouping, weighted average) for processing the data obtained. Research findings: referencing of articles of domestic authors on youth tourism, as well as the results of the author's empirical research made it possible to identify preferences in the choice of programs of a socio-cultural nature, due to their motivation to travel, as well as the influence of factors and conditions. At the same time, the conditions are determined by regional characteristics, including the availability of tourist facilities and the activities carried out in the implementation of tourist trips for social groups. When planning youth tourism development, it is necessary for Tour operators to recognize the peculiarities of youth preferences in tourist programs and events, focusing on the socio-cultural components.
Еще
Social tourism, social initiative, youth group, conditions and factors, motivation and preferences, sociological poll
Короткий адрес: https://sciup.org/140295559
IDR: 140295559   |   DOI: 10.5281/zenodo.7089316
Список литературы
Social tourism for youth as a driver of domestic tourism
Artemova, E. N., & Kozlova, V. A. (2004). Youth segment of the tourist market as a marketing research object. The Marketing in Russia and Abroad, 4, 37-49.
Donskova, L. I., Redkin, A. G., Otto, O. V., & Bespalov, N. N. (2018). Approaches to social tourism research: Foreign and Russian experience. The Science of Krasnoyarya, 7, 100-125.
Donskova, L. I., & Redkin, A. G. (2018). Results of the study of social tourism in the youth segment. Certificate of state registration of database No2018621395. The date of state registration in the Database Registry is June 6.
Yablonska, J., Jaremko, M., & Timcák, G. M. (2016). Social tourism, its clients and perspectives. Mediterranean Journal of Social Sciences, 7(3/S1), 42-52.
Kamenets, A. V. (2015). Youth social tourism as a social problem. The Modern problems of science and education, 2-2, 857.
Kolesova, Y. A. (2017) Youth Tourism as a factor in the development of domestic tourism in the Kirov region. Society. Science. Innovations (NPC-2017): A collection of articles from the All-Russian Annual Scientific and Practical Conference. Kirov: Vyatka State University, 5347-5352.
Kourilová, J., & Kratochvílová, I. (2014). Social tourism support in the Czech Republic. Czech Journal of Tourism, 3(1), 63-81. DOI: 10.2478/cjot-2014-0004.
Minnaert, L. (2014). Social tourism participation: The role of tourism inexperience and uncertainty. Tourism Management, 40, 282-289.
Strategy-2035 (2019). On the approval of the Strategy for the Development of Tourism in the Russian Federation for the period up to 2035: The Russian Government's Order of 20.09.2019 No2129-r. URL: http://www.consultant.com.au/ (address date: June 6, 2022).
Putrik, Yu. S. (2013). Social policy of the state and its implementation in the field of tourism between 1992 and 2013. State and civil society: politics, economy, law, 2, 97-106.
Sokolenko, T. V. (2014). Youth Tourism in Russia and China: the main preferences and trends of development. Russia and China: a new vector for the development of socio-economic cooperation: a collection of conference works / Amur State University. Blessed, 49-53.
Teziev, T. M., & Savkhalova, S. C. (2016). Youth tourism is a factor of healthy lifestyles. The value system of modern society. Section 13: Healthy lifestyle as one of the conditions for the formation of a harmonious personality, 47, 118-126.
Yudina, T. A., & Balanyan, M. N. (2015). Youth Tourism as a factor in the development of international tourism in the Krasnodar region. Theory and practice of Public Development, 5, 18-22.
Еще