Business sectors. Рубрика в журнале
- Economic and Social Changes: Facts, Trends, Forecast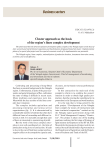 Cluster approach as the basis of the region's linen complex development
Статья научная
The article describes the direction of future development of flax complex in the Vologda region on the basis of inter-sectoral and interterritorial cooperation and the formation of regional industrial cluster. Implementation phases of a special pilot project and the expected economic results of its implementation are presented.
Бесплатно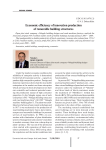 Economic efficiency of innovation production of removable building structures
Статья научная
Open joint stock company «Vologda building designs and road machines factory» realized the innovative program 454.3 million roubles worth of mobile buildings manufacturing in 2007 - 2009. That madepossible to double productivity of block-containers, increase sales volume from 1731.2 to 2183.9 million roubles, increase profit from 260 to 399.4 million roubles and keep personnel size in crisis years 2008 - 2009.
Бесплатно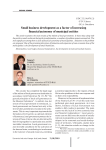 Small business development as a factor of increasing financial autonomy of municipal entities
Статья научная
The article examines the main results of the reform of local government. It shows that along with the positive results achieved during the transformation, a number of problems remain unresolved. The most significant among them is lack of financial autonomy of municipalities. Solutions to this problem are proposed. One of the promising directions of formation and expansion of own economic base of the municipality is the development of small businesses.
Бесплатно